Your shopping guide: Activité by Withings
Today, the market of connected objects is always innovating. Plenty of connected watches are invading the market and it is sometimes difficult to have an overview but specially finding the product that answer your needs.

First, you need to know that there are several types of connected watches. They are very different according to their look and functionalities.
The three main types of connected watches
There are three main types of connected watches.
Watches which complete your mobile phone. Amongst them the most famous is the Apple Watch. With a microphone and a speaker, you can, for example, answer your calls as soon as your smartphone is around.
Autonomous watches. They don't need a smartphone and with a SIM card they can replace your mobile device.
The Activité watches by Withings are not part of the categories above but part of the third category: watches with hand-watches tracking activity. Numerous sensors more and more performing make your life easier: sport, health, wellness… There are numerous activity trackers; they all have a design with a sport style with a bracelet. Withings is one of few manufacturers which produced a watch with a look looking like a real watch like Swatch or a clockmaker clock.
Watches from the Activité range are three models. If you are looking for an activity tracker watch, you will probably find something for you in those products. Their functionalities are the same from one model to another but the looks and the components explain the price variation.
The range Activité by Withings
With which devices the watches of the range Withings Activité are compatible?
The first thing to know before continuing reading this article is that Withings watches are not compatible with Windows Phones and that your smartphone needs to be configured at least with iOS7 (or higher) and Android 4.3 (or higher) and especially to connect your smartphone to the watch you need to have Bluetooth Low Energy.
To know if your device is compatible, you just need to download the Health Mate Application and check if in "My Devices", Withings Activité is one of the products that you can install.
Withings Acvitité Sapphire, Steel or Pop?
Those watches have common specificities and differences; Robot-Advance helps you choosing with a comparative.
Common characteristics
The watches Activité from Withings have common specificities such as:
A case of 36,3mm in diameter and a bracelet for wrists until 19,5cm. According the model, the weight is also the same: 37g.
Each watch from the range Withings monitors your physical activity and can measure all change of rhythm in your life: automatic detection of running (for a jogging or just catching your bus) and swimming. Simultaneously, it measures the active calories and burned as well as the distance you walked/ran.
All results are available directly on your smartphone thanks to the application Health Mate available for free on Android and iOS. This application permits also interpreting your results thanks to simple graphics but also ranking you against your friends giving your performances or simply giving you wellness, sport or health tips.
All watches from the range Withings Activité are waterproof and can handle until 50 meters (5 ATM) of depth.
Watches also monitor your sleep and nights: detection of the different sleep cycles (deep and light), awakenings in the night and measurement of the length of your night. With all this data you can analyze your nights and improve it to be in a good shape for the day.
The three watches also wake you up thanks to an individual and gentle alarm-clock thanks to vibrations which wake up the watch holder.
Thanks to a simple button battery, the wath has autonomy of 8 months and so you don't need a cable to charge it. An installation tool included in the box permits you changing the battery yourself.
Health Mate on Android
Health Mate on iOS
Differences
You will see a price difference between the three models; this difference can be explained with the components of the watch and their origin.
The three models Pop, Steel and Sapphire have the same functionalities but different styles for three different lifestyle. With their appearance the watches Activité by Withings are not only devices but also fashion accessories.
Activity Pop is the entry-level product and a sport model. For a price of €150, you'll get a product with removable silicone straps available in three colors: Sharl Grey (dark grey), Azur (blue) and Wild Sand (white). The case is made of satinless steel 316L and the deposit is made with the method of physical vapor deposition. The protective glass of the watch dial is in mineral Swiss glass, touch sensitive (for example, if you planned on waking up at a certain hour on your phone, you just need to tap two times on your watch to see the set hour). The watch dial of Activité Pop is designed in Swiss and has brass hands.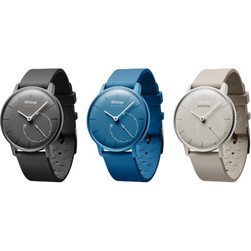 Activity Steel is the middle range model, between Activité Pop and Activité Sapphire. For a price of €170, is case is also made of stainless steel 316L but its hands are in aluminum. The protective glass is in mineral Swiss glass and also touch sensitive. The straps' colors are different and more discreet: black or white. This makes a model between two products with a chic sportswear style.

Activity Sapphire is the high range model; you can also find it under the name "Activité", its former name. Its price of €390 can be explained with the "Swiss Made" label. With its appearance, this watch can pretend being a clockmaker watch. Manufactured in Swiss with aluminum hands, it has a sapphire glass, touch sensitive, cut in Swiss, scratches-proof and unbreakable. The bracelet, made of French leather calf, comes from the Haas tanneries, supplier of Haute Couture houses, and is removable and can be replaced with a silicone bracelet included in the purchase, if you want to protect the leather straps when you are do sports. Activité Sapphire represents the successful bet of conciliating luxury watchmaking and connected watch.