Today I am launching a new category of the blog, participatory fundraising campaigns around robotics. What better way to keep up to date with the new robots presented in France and abroad than to closely follow the various crowdfunding campaigns around robotics.
A good way to find out what works, what doesn't work and what convinces or not the general public. The first project presented in this section exceeded his expectations and raised more money than expected, a good sign for the future.
NOVA, robot with artificial intelligence
Nova is more of a robotics project than a robot itself. Its motto: "Build your own artificial intelligence robot and practice your coding and engineering skills in the most exciting way possible", a whole program!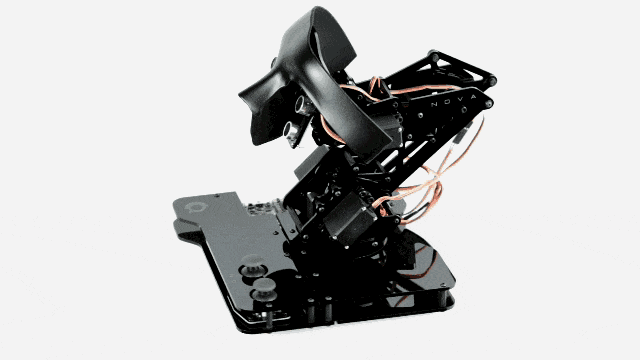 The project of this futuristic robot with the "Darth Vaderian" design is only a prototype for the moment but has managed to collect 30,138 pounds out of the 20,000 required to advance development. The fundraising is only 15 days away, so it is very likely that Creoqode will go even further.
NOVA is equipped with artificial intelligence and based on the Arduino model, all in open source. This suggests the development of a free community that will undoubtedly expand this robotics project.
It is a kit to learn coding, electronics and many other engineering concepts, including computer vision, image processing, kinematics and control theory. The robot is able to
Recognize and follow faces
Identify the colours
Measure distances
Move accordingly in 5 different axes
Be controlled with the joysticks provided in the kit
NOVA, open source and Arduino compatible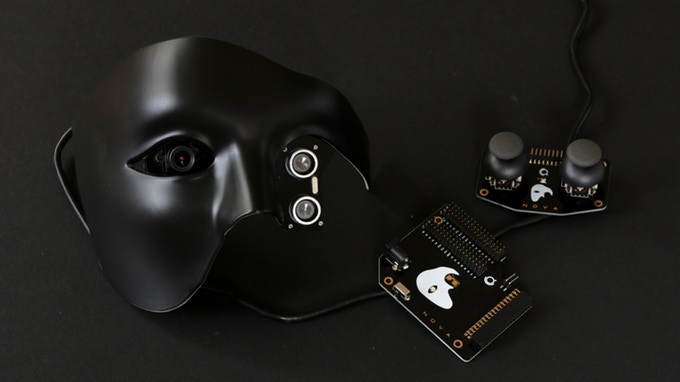 Open source means that the possibilities are much greater and that everyone can make NOVA evolve according to the idea they have had and the way they have used it. You can add many sensors and gadgets to connect to personalize it and provide it with additional features, such as :
Voice recognition
Target shooting
The mobility
Users can add to it:
Loudspeakers
A microphone
Bluetooth and Wifi modules
Wheels
The development board offered by Creoqode designers, the Mini Mega is fully compatible with Arduino software. The technical specifications are the same as Arduino Mega with the advantage of a very compact card. The company will also offer the "Nova Servo Shield": quick connection between the servomotors and the Mini Mega card, as well as easy access to unoccupied digital and analog input/output pins.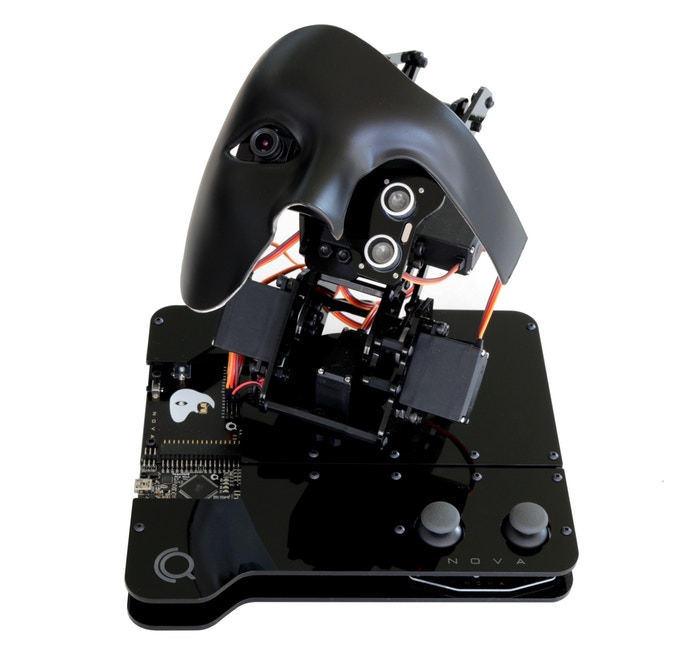 The base of the Nova robot will be equipped with two joysticks including 4 potentiometers and 2 switches.
This robot is intended for everyone since it will be compatible with Windows, Linux, Mac OS and will provide tutorials and educational guides for beginners and beginners. It can be programmed with Arduino Software and Processing and will have the flexibility to adapt to projects from a few hours to several weeks as the possibilities are so great.
Project NOVA in video
Finally, I suggest you watch this video presentation of the project, which we hope to see for sale as soon as possible.
Find all our news about the world of robotics: