The LEGO Mindstorms EV3 Basic Set is a robotics education kit consisting of a programmable intelligent brick, numerous sensors and actuators as well as a body made of LEGO Technic bricks and elements.
LEGO Mindstorms EV3 - A participatory teaching method
The LEGO Mindstorms EV3 is not just a robot: it's a new teaching method that can awaken a wide range of interests underneath its playful looks. Tables, formulas, simulations... What if, for once, the success of your students didn't depend on a traditional medium, but on a concrete, intelligent and motivating application? So that the problems are no longer simple problems, but practical cases, with not one but several solutions to discover.
The LEGO Mindstorms EV3 does not require any knowledge of robotics to begin with. Under its toy-like appearance, it not only allows you to understand how everyday technologies work, but also to use them to create new applications!
Imagination, personal involvement and understanding are no longer objectives to be achieved, but accompanying tools awakened by the use of the LEGO Mindstorms EV3.
Don't just explain a scientific phenomenon to your students: demonstrate it.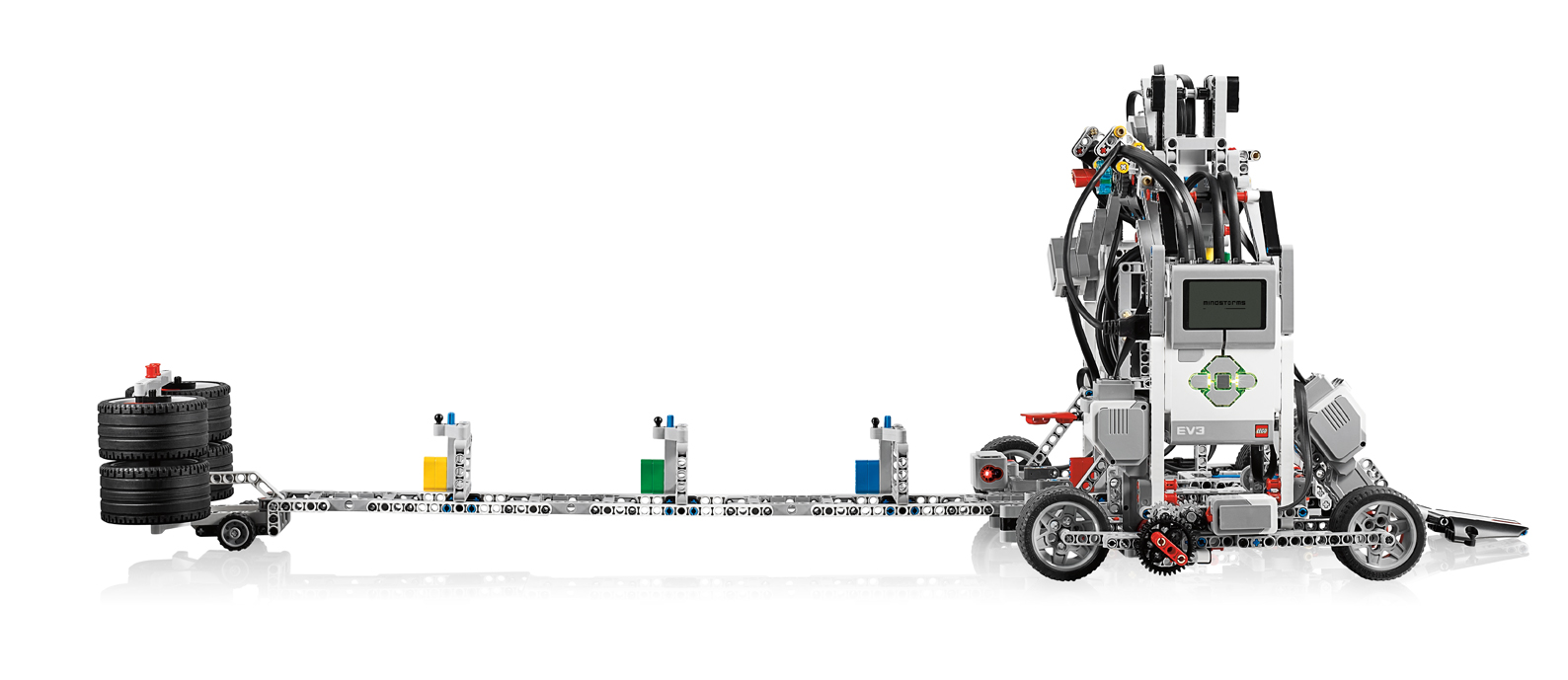 Mindstorms EV3 designed for classroom use
The LEGO Mindstorms EV3 Basic Set is designed for classroom use. Designed by teachers and for teaching, this kit allows you to create, program and use a robot in short sessions. The kit comes in a plastic case with a sorting bin, making it easy to store and sort the different elements.
New intelligent EV3 brick​
The EV3 smart brick has been reviewed and corrected from its predecessor, the NXT smart brick. No more LEGO homemade firmware, instead Linux, the Open Source operating system. Budding developers will applaud the initiative and rub their hands at the new possibilities offered by this change.
For the others, the brick will feature a 6-button illuminated interface (programmable), a high-resolution black and white screen, speakers, a USB port, a mini-SD card reader, 4 input ports, 4 output ports. Communications supported: USB, Bluetooth, WiFi (WiFi dongle sold separately).
A new interface will allow you to program and perform data logging directly from the brick, without the need for a computer. The EV3 smart brick will also allow you to use your own sounds and images. Learn more about the EV3 smart brick.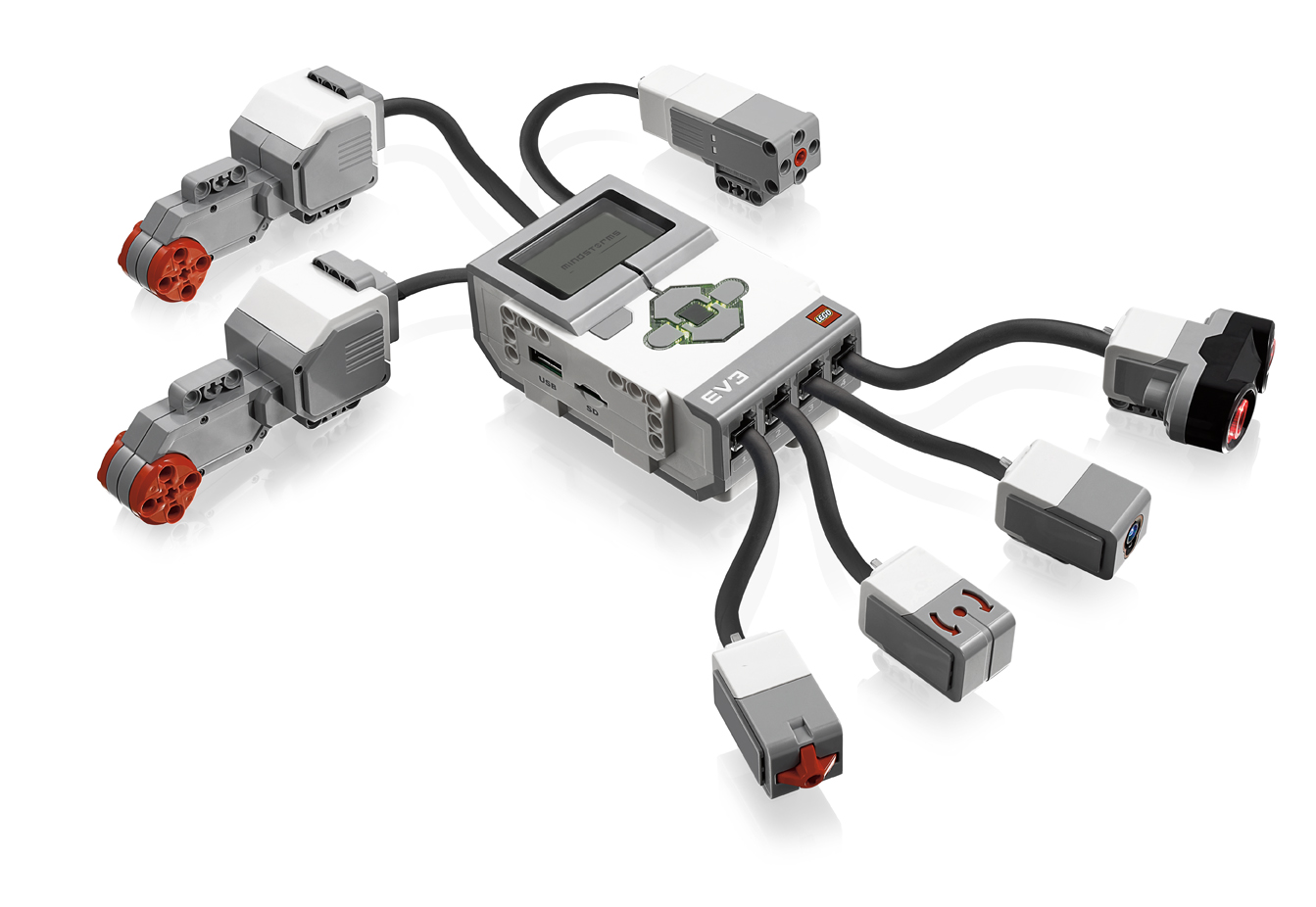 Maximum possibilities with LEGO EV3 Mindstorms
Because it is sometimes easier to be guided during the first steps on the hardware, LEGO Mindstorms EV3 Software offers 4 different models of robots to build. Assembly instructions and a step-by-step programming guide are provided in the software for these 4 models.
Once you are comfortable with the different construction principles, the possibilities of the LEGO Mindstorms Education EV3 basic set are unlimited. Build, improve, disassemble and start over with new designs, answering new problems: this educational kit offers a theoretically unlimited number of hours of activities.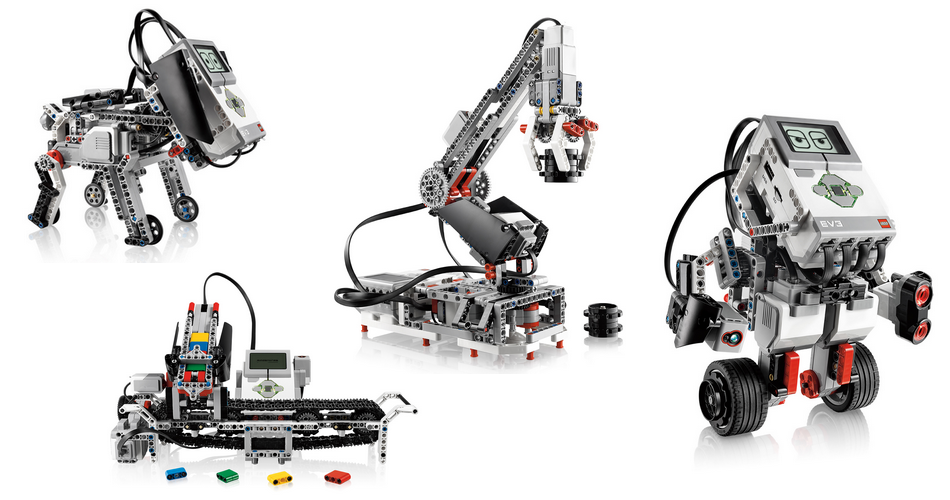 LEGO Mindstorms EV3's key educational values​
Design and build programmable robots using motors, sensors, wheels, gears and axes, and many other technical components.
Understand and interpret 2D schematics and then apply them to create 3-dimensional robots.
Build, test, analyze and review problems encountered to increase robot performance.
Use and understand mathematics through practical cases such as estimating and measuring distances, speed, time, etc...
Become familiar with technical and scientific languages.
LEGO Mindstorms EV3 Features​
minimum recommended age: 10+ years old
Number of items: 541
Type of bricks: LEGO Technic
Dimensions of the storage box: L: 42.52 cm / W: 30.90 cm / H: 15.60 cm
LEGO Mindstorms NXT Compatibility - EV3​
All components, cables, motors and NXT sensors are EV3 compatible.
The NXT brick can be programmed with the new EV3 software.
The EV3 brick cannot be programmed with the old NXT software.
Your NXT programs can be converted to EV3 programs. Be careful, however, as reversing is impossible.
The NXT battery is not compatible with EV3. The NXT battery charger, on the other hand, is EV3 compatible.
LEGO Mindstorms EV3 Education Software
Grâce au logiciel LEGO Mindstorms EV3 Education Software (inclus), votre kit devient plus qu'un kit robotique éducatif. Le nouveau logiciel LEGO Mindstorms EV3 propose de nombreuses nouvelles fonctionnalités. Grâce à un Data Logging particulièrement performant, le LEGO Mindstorms EV3 devient un outil de choix non seulement pour l'enseignement de la robotique, mais aussi de la physique, de la chimie et des mathématiques. En savoir plus.
With the LEGO Mindstorms EV3 Education Software (included), your kit becomes more than just an educational robotics kit. The new LEGO Mindstorms EV3 software offers many new features. Thanks to powerful data logging, the LEGO Mindstorms EV3 becomes the tool of choice not only for teaching robotics, but also physics, chemistry and mathematics. Find out more about the EV3 LEGO Mindstorms.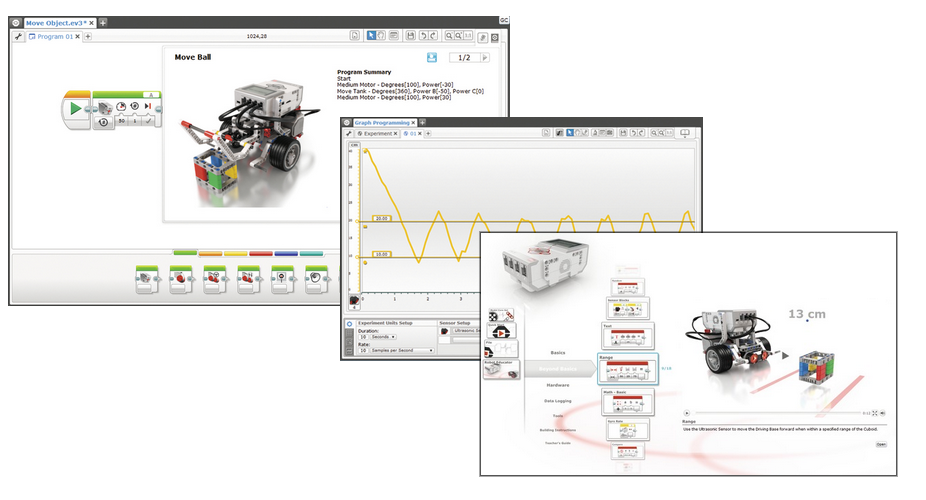 Graphic programming with EV3 software
This software based on LabVIEW (National instrument) is both powerful and easy to use. On the programming side, the LEGO Mindstorms EV3 software offers an intuitive graphical solution optimized for classrooms. Simply drag and drop icons one after the other to create stand-alone behaviours. Numerous tools will enrich the line of command sequences to create increasingly complex algorithms.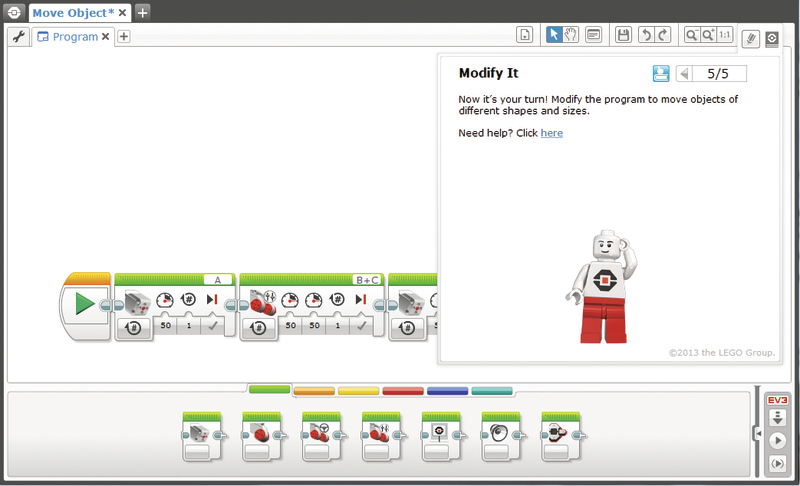 Data Logging
Data logging functionality has been significantly enhanced, allowing easy collection, visualization, analysis, manipulation and export of sensor data. You can now view real-time data from your sensors in graphical form. The collected data is stored in a table and can easily be exported as a spreadsheet.
With this improved data logging a new form of programming is introduced: programming by graphics. Define thresholds as well as actions corresponding to each range of data, and thus create automatically executed behaviours based on the values returned by the sensors of your choice.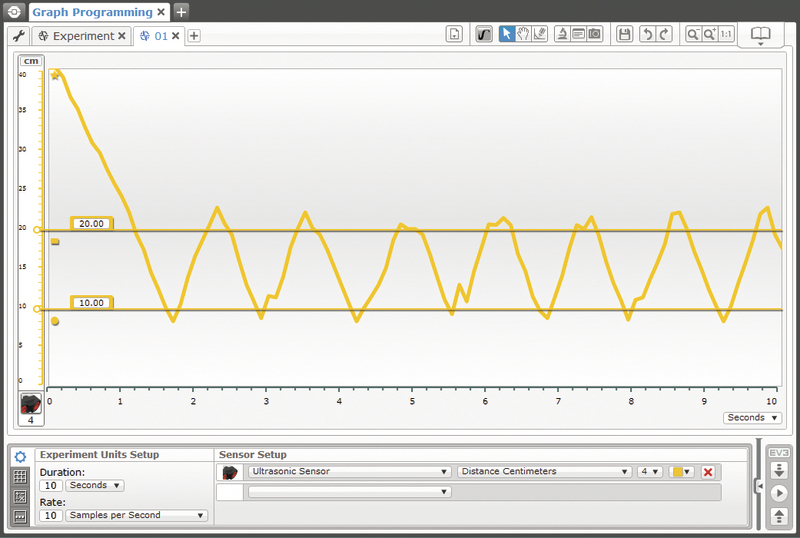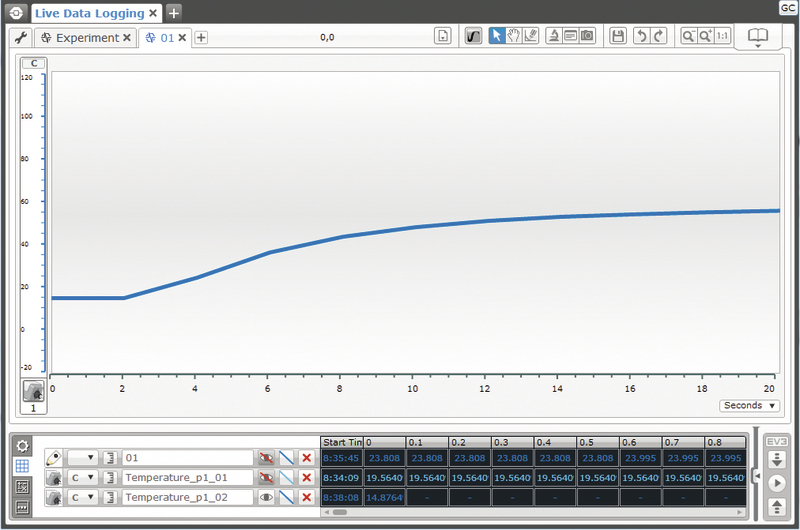 Content Editor
LEGO Mindstorms Education EV3's built-in content editor allows teachers to customize the activities included in the software, as well as create their own lessons, and allows students to create their own interactive project booklets, inserting text, video, images and sound.
As a teacher, you have access to these notes, and can even respond to them, via a dedicated interface. Asking for more details on one of the project points, making suggestions, directing your students: this tool allows a real personalised follow-up of each group of students, directly integrated into the EV3 software.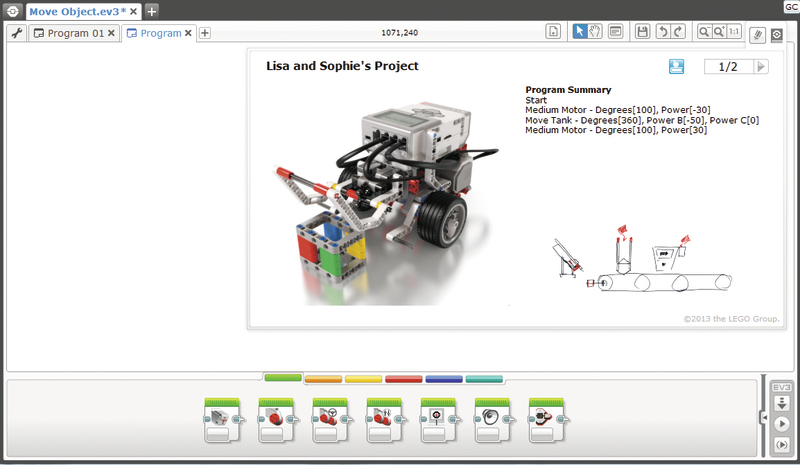 Robot Educator
Robot Educator is a new tool provided by the educational version of LEGO Mindstorms EV3 software. This robotics wizard consists of 48 step-by-step tutorials, designed to understand robotics as a whole, from the most basic operation of a sensor or motor to advanced programming, through the use and understanding of data logging.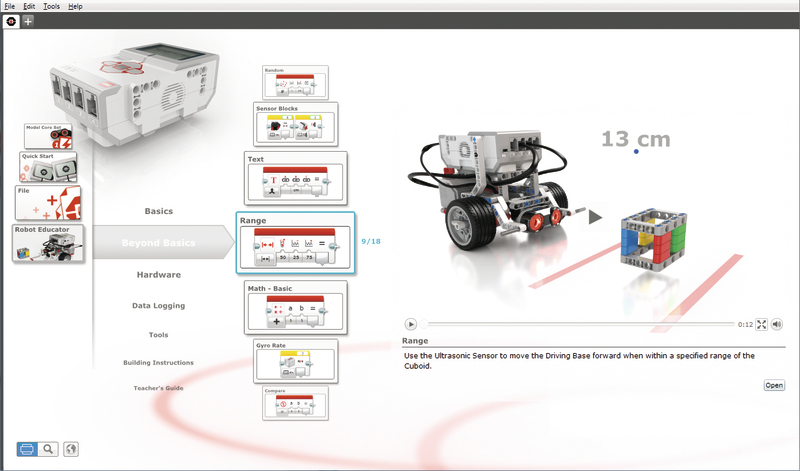 Key Concepts Mindstorms EV3 Education
Use sensors and motors to produce a sequential sequence of instructions linking cause and effect. Create logical behaviors.
Develop and test a system capable of listening to its environment and acting on it.
Use predictive tools to build hypotheses and easily demonstrate/ disprove them.
Collect and analyse sets of data in accordance with scientific methodology.
Teaching of mathematics and engineering sciences through the integration of physical constants, units of measurement, coordinate systems, minimum, maximum, median and linear formulas.
LEGO Mindstorms Education EV3 Software Distribution​
LEGO Mindstorms Education EV3 software is distributed exclusively in digital format. The removal of the physical distribution method (CD-ROM and DVD-ROM) allows LEGO to improve its services by offering you the latest version of the software available as soon as you purchase it.
Once you have registered your license with the LEGO Education (LEON) download platform, you will be able to download the software as many times as necessary, with no limit on the number of downloads. In case of loss of the software (formatting or replacement of one or more workstations), simply download the latest version of LEGO Mindstorms Education EV3 software free of charge from the LEON download platform, logging in with your license information.
When you purchase, you will receive an email from us containing all the information you need to download your software and activate your license.
LEGO® NXT, EV3 and Power Functions Battery Charger Sold Separately
All about Lego Mindstorms EV3 :