Withings BPM+, a new connected blood pressure monitor which can easily measure tension and anywhere.
The cuff is very compact and easy to store, so you can carry it with the least space.
This is a wireless blood pressure monitor, which requires the use of a smartphone or tablet. Thanks to its dual connectivity: Bluetooth 4.0 or via a USB cable (supplied), you can connect it to your IOS or Android device. Then, the connection is done quickly.
Simple and comfortable grip
Equipped with a cuff thinner and more comfortable than its predecessor BPM, this BPM+ is more travel-friendly.
Simply slip on the cuff, turn on the wireless blood pressure monitor and the Health Mate app will automatically launch. Then you are ready to take your blood pressure and to find your measurements directly on your smartphone/tablet.
Health Mate free Application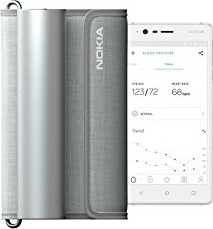 Just take a look at Health Mate to get your results. Indeed, this mobile application saves all this data, and creates an intuitive graph to interpret.
Withings BPM+ is a reliable FDA and CE approved. You can also share your measurements with your doctor through the application in seconds.
So in the case of chronic illness like hypertension, it's easier to prevent, manage and monitor the effectiveness of a treatment for your doctor.
It's up to you to discover more health and wellness features with this Withings BPM+ blood pressure monitor and Health Mate App.
Technical characteristics :
Brand: Withings
Product name: BPM+
Size: 165*60*60 mm
Weight: 344 g without batteries
Power source: A4 x 1.5V AAA alkaline batteries (LR3), come with the product.
Compatibility: IOS (IOS 8 and higher), Android (5.0 and higher), Bluetooth Low Energy device
Applications