Simple & Smart Life Starts with WINBOT
WINBOT Cleans Glass of ANY Thickness
WINBOT is the world's only window cleaning robot that can clean glass of any thickness – even Thermopane windows. The WINBOT W730 is equipped with a frameless window detection system so you can clean glass doors, railings and shower stalls with ease.
WINBOT is so easy to use. Switch the robot ON, place it on the window, and press start. It's THAT easy. Now you can sit back, relax and let WINBOT do the work.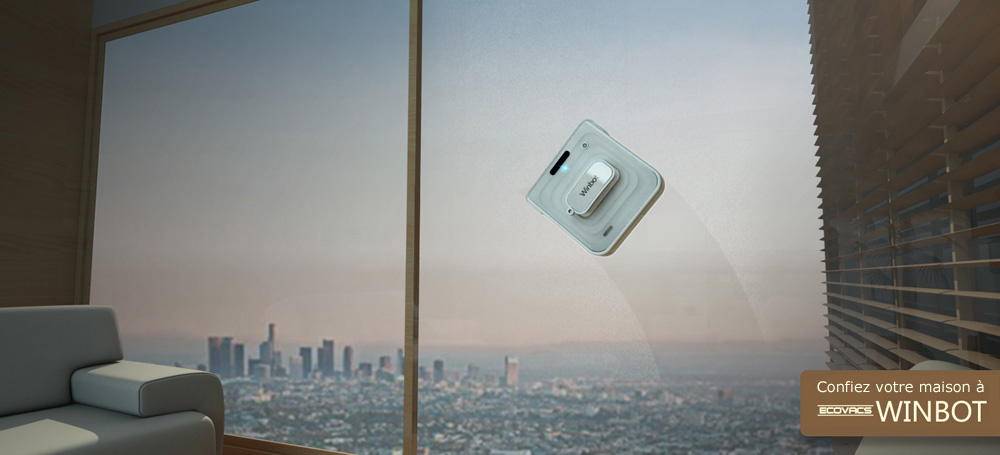 Outstanding Cleaning Efficiency
Three-Stage Cleaning for Maximum Efficiency
The only thing Winbot does is clean windows, leaving them shining and spotless. First, the front Cleaning Pad, sprayed with cleaning solution, moistens, loosens and absorbs dirt. Second, the Squeegee draws the remaining water-borne dirt and dampness off the window. Third, the rear Cleaning Pad wipes the window to a dry, spotless condition.
Cleaning Pad Absorption Ability
Compared to common cleaning cloths, these specially designed fiber Cleaning Pads provide powerful absorption of dust and dirt, ensuring WINBOT leaves the window sparkling clean.
WINBOT automatically determines the size of your window, then programs a path to clean the window quickly and efficiently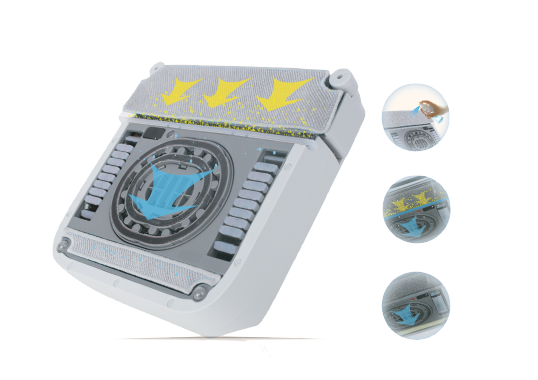 Safety Protection
Once started, WINBOT 7's internal vacuum pump and seals generate enough suction to the window to support the unit and allow it to maneuver easily.
If WINBOT is used to clean a window above ground level, the Safety Pod provides an extra layer of protection.
Dual Suction Rings for Safety Protection
WINBOT is equipped with dual suction rings. If the outer ring senses any loss of suction, a signal will be sent to WINBOT's "brain" to reverse direction and select a new path.
Real Time Malfunction Report
Should a problem occur, WINBOT will stop cleaning and the Indicator Light will flash and an alarm will sound. You will always know WINBOT's working status as Indicator Lights are located on the top AND bottom of the unit.

User-friendly design
The body of WINBOT 7 is surrounded by extremely soft material that won't scratch your window frame, and the material on its underside is engineered to not scratch the glass.
Equipped with anti-slip driving treads and two efficiently powerful motors, WINBOT 7 has what it takes to clean without slipping..
A Remote Control is supplied so you can take command of WINBOT should you wish.
The Cleaning Pads are easy to remove to be washed and dried.
With a working noise output of just 55 decibels, WINBOT will not interfere with a normal conversation or listening to TV or Music.
Less Friction, More Protection
WINBOT's bumper and side rollers keep the unit and window protected, and reduces friction. When it encounters an obstacle, like a window frame, WINBOT will automatically adjust its route and keep on cleaning.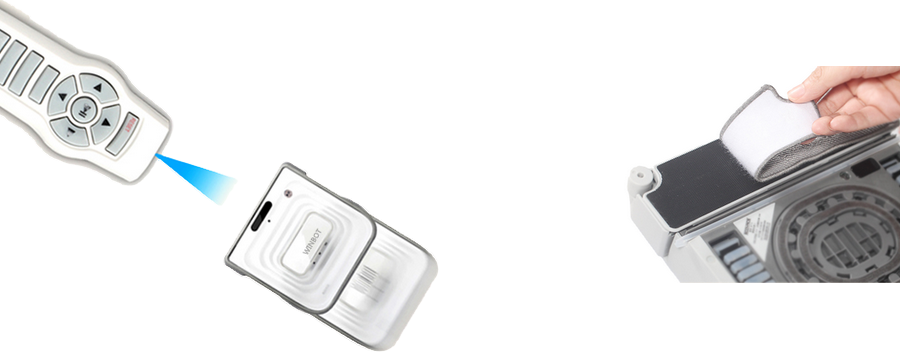 WINBOT 730 Features
Winbot 730 window cleaning robot
Cleans glass of any thickness
Outstanding cleaning efficiency and easy to use
Extraordinary safety protection with user-friendly design
11.1 V lithium rechargeable back-up battery
WINBOT 730 Specifications
Color: Pearl White
Size: 232 x 225 x 95 mm
Net Weight (Kg): 2
Frameless Identification: Can be used to clean frameless windows such glass doors, etc
Charging Time (H): 2
Battery: 11.1 V lithium rechargeable back-up battery
Battery Capacity (mAh): 400
Working Speed (m/s): 0.15
Power Adapter (m): 3
Working Noise (db): 55
Remote Control: Yes
Cleaning Pads (Set): 2