Thymio is a programmable and customizable educational robot that is now one of the most widely used robots in classrooms around the world. It is compatible with many programming languages from the simplest to the most complex, allowing everyone to engage in exciting creative projects or challenges while adapting the level of difficulty to the skills of participants.
Thymio was created as part of a cooperation between the Ecole des Arts de Lausanne and the MOBOTS group of the Ecole Polytechnique Fédérale de Lausanne (EPFL) (ECAL). The NCCR Robotics Research Program contributed to the creation of the Thymio educational robot, while the Mobsya Association assisted in the development and oversaw the manufacturing and distribution.
The strengths of the Thymio robot
The Thymio educational robot has many strong points and has not imposed itself by chance in your children's schools. Whether it's through its community, its simplicity of understanding by teachers or the ease with which it can be integrated into classrooms, everything is done by Thymio so that you can launch into new projects with children in a snap of the fingers.
Pre-programmed behaviors: the educational robot Thymio already knows how to do many things, such as follow a track, follow your hand, get out of a maze or react to sounds. All the basic behaviors to understand the behavior of Thymio in front of its environment.
Suitable for beginners: the VPL program allows you to create your first program in a few clicks. It is visual and does not require any line of code. Easy as pie, even for novices.
A multitude of free resources: on the Thymio website, you will find a multitude of free educational resources to help you carry out your lessons with your students or your projects and challenges at home.
The latest news about the educational robot Thymio
Thymio News July 2021
Thymio Suite for iOS and Android: Now use Android and iPad tablets to program the Thymio educational robot at school or at home. In the classroom, use a simple rooter to connect different tablets over Wifi and allow each student to work on learning programming with their robot.
Updated Thymio programming with Scratch: better stability when surrounded by multiple robots, fixed some bugs with blocks, Thymio robot as default Sprite and improved Thymio sound inside the Sprite.
Using Scratch AND micro:bit: now use the micro:bit handheld to program the Thymio educational robot via Scratch. Now guide your wireless Thymio robot through a micro:bit.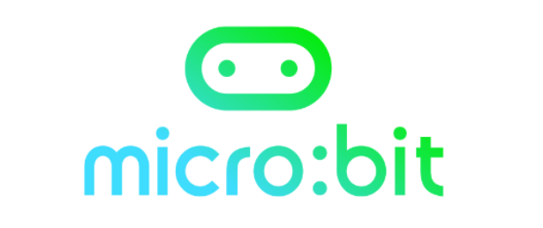 Thymio News October 2021
Thymio Suite 2.2.0 : the latest version of Thymio Suite with 5 programs in 1 software, VPL3 with a new visual, more buttons and the possibility to create your own dashboard, possible programming of the Thymio robot with many languages and programs (Python, VPL, VPL3, Scratch, Blocky and Aseba).
New activities for Thymio's 10th birthday: to celebrate its 10th birthday, Thymio offers 2 new and turnkey programming activities with VPL 3: "Thymio and its ground sensors" and "Thymio and its proximity sensors".
Program Thymio with Python : new Python programming language for Thymio with new educational activities. To learn more, check out our complete guide for Python with Thymio.
Abesa-ROS compatibility : you can now have an efficient code library thanks to Thymio's compatibility with Abesa-ROS. This tool is already ready to use and much used by universities to do robotics.
Thymio News November 2021
A new Thymio website : discover a brand new Thymio website on which you can find many feedbacks from teachers, many pedagogical activities, webinars and videos or images to get started with Thymio.
Hackaton Thymio robot : from November 18th to November 20th, 2021 Mobsya and Roteco organize an online Hackathon on AI around the Thymio robot with the support of EPFL, Stripes and Supsi. The objective is to create activities for teachers with Thymio on Artificial Intelligence.
Thymio novelty in preparation: Teacher Tool
Warning: this Thymio novelty is in preparation but is not yet available. The Teacher Tool Thymio may still be subject to changes and no date of availability has been announced yet.
Teacher Tool: to help teachers manage the use of the educational robot Thymio in class, discover the Teacher Tool.
Access to a resource library
Management of robots and tablets in class
Activity supervision dashboard
Display of resource content on students' tablets
Creation and management of student groups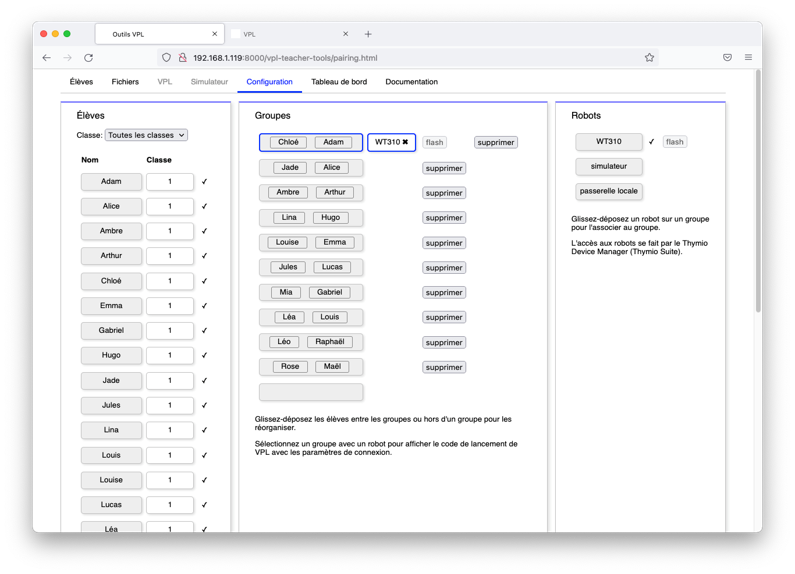 Monitoring of students during activities
Controlling students and activities
Sharing Thymio activities with groups of students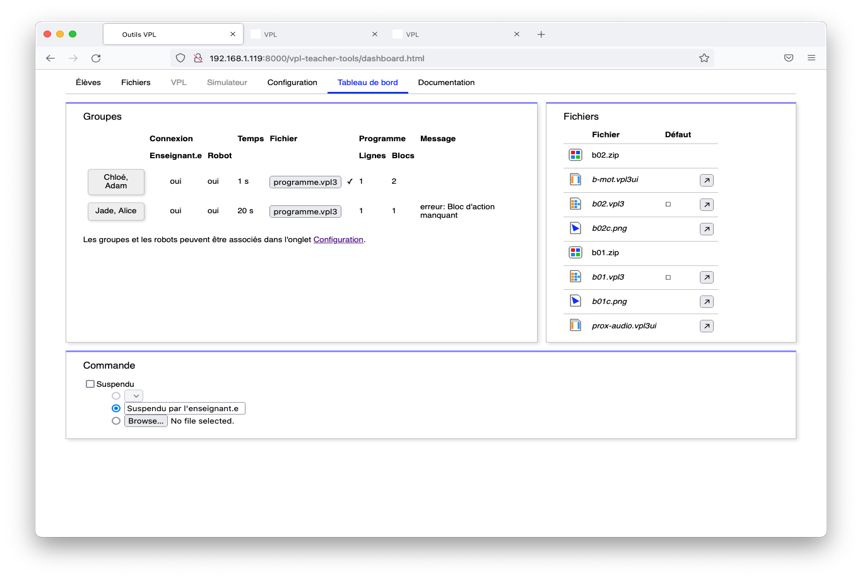 Thymio robot in video
To finish and for those who want to know more about the educational robot Thymio, discover this video presentation of the robot.