It is with great pleasure that I will introduce you to the Osmo kits today. Educational games connected to iPad and iPhone, to teach younger children to use real objects to play mobile applications for educational purposes.
Osmo, what is it?
To get started and to understand, Osmo offers children to use their hands and the objects offered in the different kits to interact with the free mobile applications to download, only available for iPhone and iPad at the moment. This is made possible by a sensor above the camera and a specific base on which to place the device, which identifies the objects in front of the screen.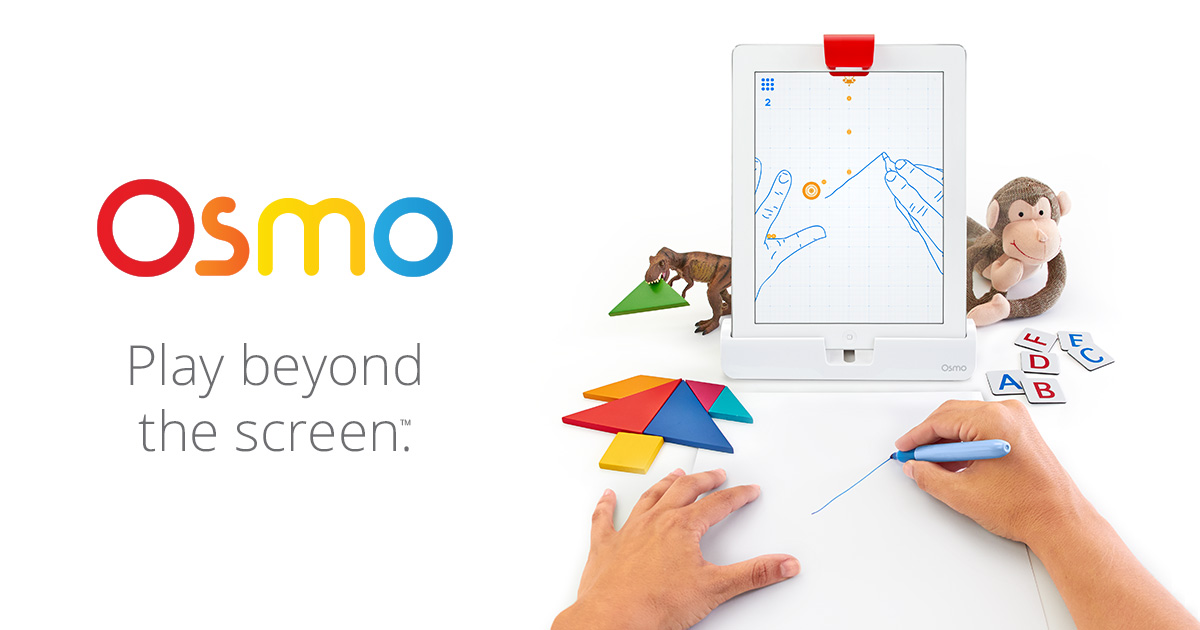 The various Osmo kits available for schools and individuals allow you to work on different skills such as:
The art
The writing
STEM
The spelling
Mathematics
The geography
It is interesting to note that the applications are participatory and that once the basic exercises / models are completed, you will be able to download others made available by the community. This possibility considerably extends the duration of use and keeps children's attention around the same activity at all times.
The different Osmo kits
I will not present you all the Osmo kits and applications but only the 4 main ones, which you will find very soon in our shop.
It is a well-known fact that children enjoy adventures. Based on this universal principle, Osmo offers the Coding Awbie Game kit (Discover the kit here) composed of parts with spring-mounted directional arrows and others with numbers. Once properly arranged, they will allow the hero Awbie to navigate correctly on the screen.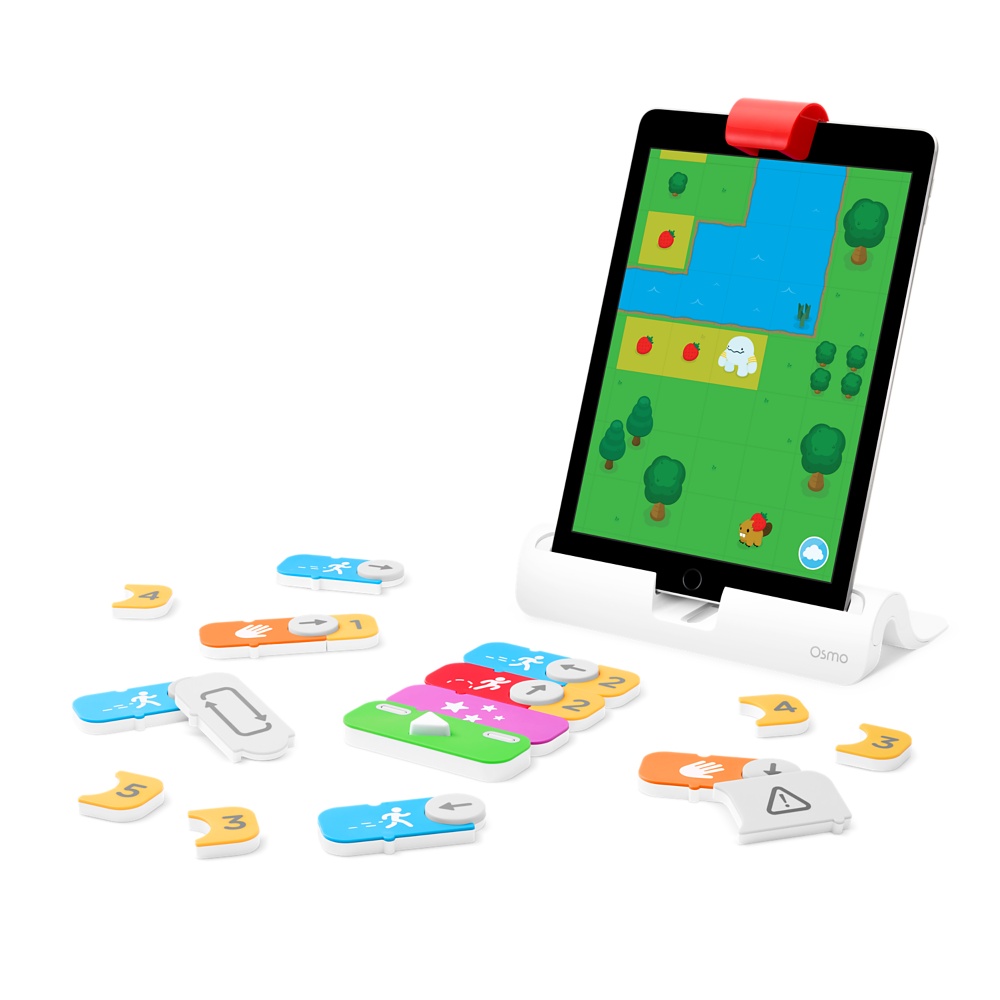 The objective? Find the right way, treat him with the strawberries he loves so much and above all teach children to navigate through space by solving trajectory problems. But not only because we are also getting closer to what we can see around coding programs: setting up a chain of actions and launching it with a play button to check if the suite implemented is the right one.
The Osmo Tangram kit (Discover the kit here) offers children the opportunity to learn geometry and landmarks in space. How? How? Thanks to wooden pieces of different colours that will have to be used to reproduce identically more than 500 puzzles offered on the screen.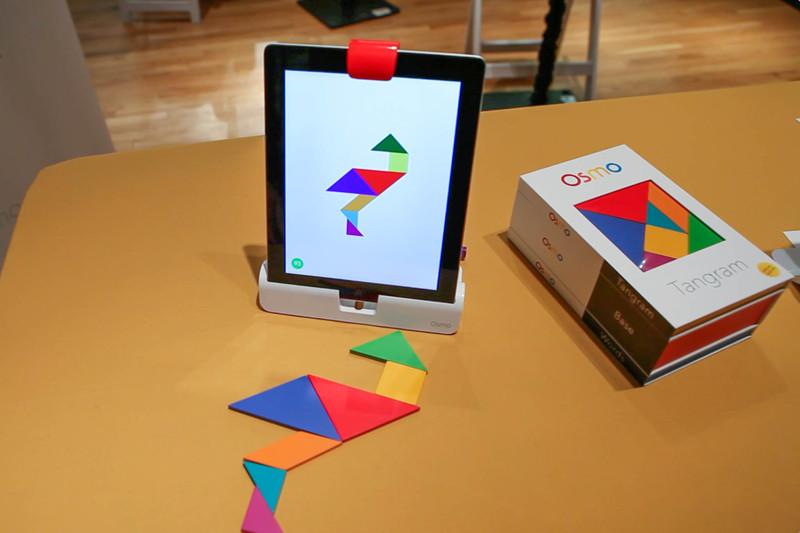 Another known fact is that children are not always comfortable with numbers and mathematics. That's why it can be interesting at first, to put them in the bath in a fun and entertaining way.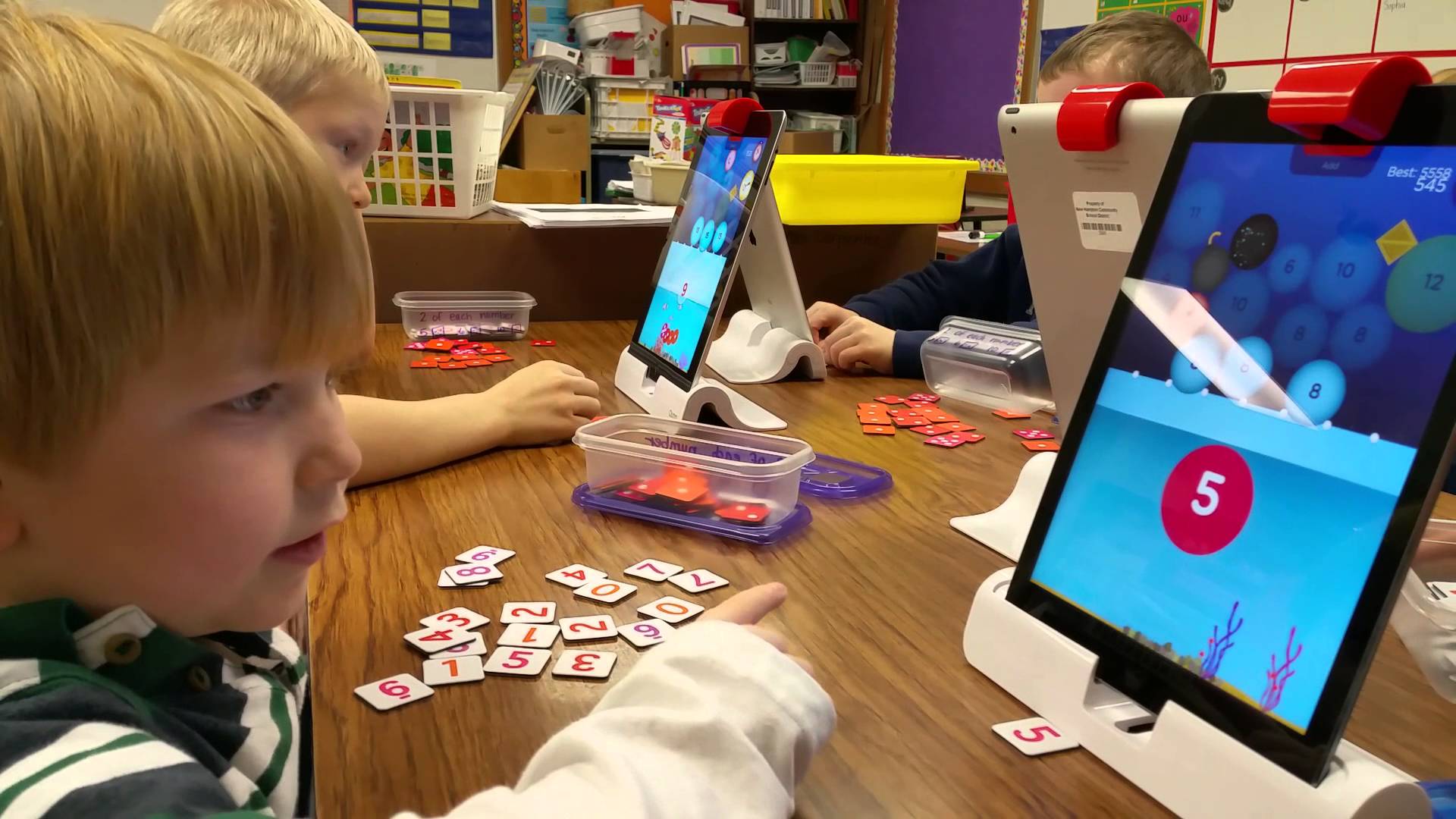 This is what the Osmo Numbers kit offers (Discover the kit here): solving simple mathematical problems and working with numbers through a fun application that takes place in the ocean. A creative and constructive application that will easily keep children's attention at all ages.
There comes an age when spelling and writing words become important. We know the letters that stick to the fridge, but it's not the most effective thing! The Osmo Words kit (Discover the kit here) allows children to associate letters with each other to spell out the name of the object or animal that appears on the screen.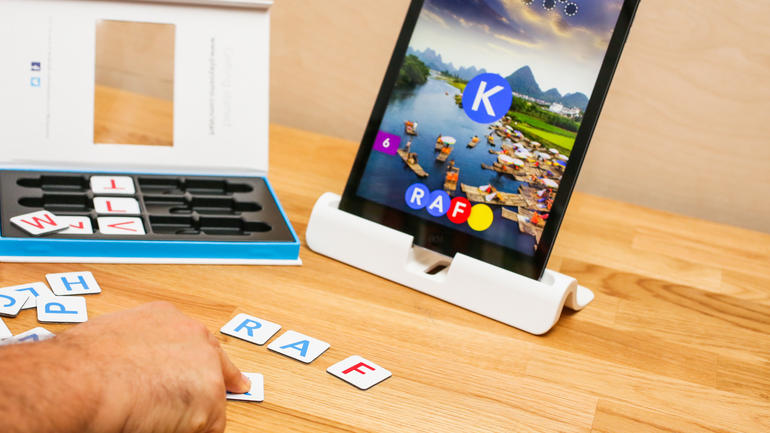 They can then progress and learn from their mistakes themselves to finally find the right combination that will take them to the next image. As mentioned above, it is possible to download Words albums created by other parents and teachers directly from the official Osmo website.
This is a complete kit that will perfectly meet the needs of schools and parents who want to work regularly and in a fun way on different subjects and issues. This Osmo kit (Discover the kit here) includes the Osmo Tangram, Words and Numbers kits.
Osmo compatibility
This is very important since Osmo applications and accessories are not yet suitable for all devices. They are currently only available on iPhone and iPad. Find below all the compatible versions:
You need an iPad or iPhone with a camera.
Compatible iPads: iPad 2, iPad (3rd generation), iPad (4th generation), iPad Mini, iPad Mini 2, iPad Mini 3, iPad Mini 4, iPad Air, iPad Air 2 and iPad Pro 9.7 inches.
Compatible iPhones: iPhone 6, 6s, 6 Plus, 6s Plus, 7, and 7 Plus.
Osmo will then be compatible with iPad Pro 12.9, but that's not for now.
Osmo does not work with Android devices
Tangible Play, Inc.
Once again, it is a young company that is making a name for itself in the development of revolutionary educational games, to teach young people, through new technologies, to acquire skills that have hitherto been little used.
The company Tangible Play Inc. is behind the Osmo innovation. Based in Palo Alto, California, it was created in 2013 by Pramod Sharma and Jérôme Scholler and starts strong with its first three games / educational applications: Osmo Words, Newton and Tangram.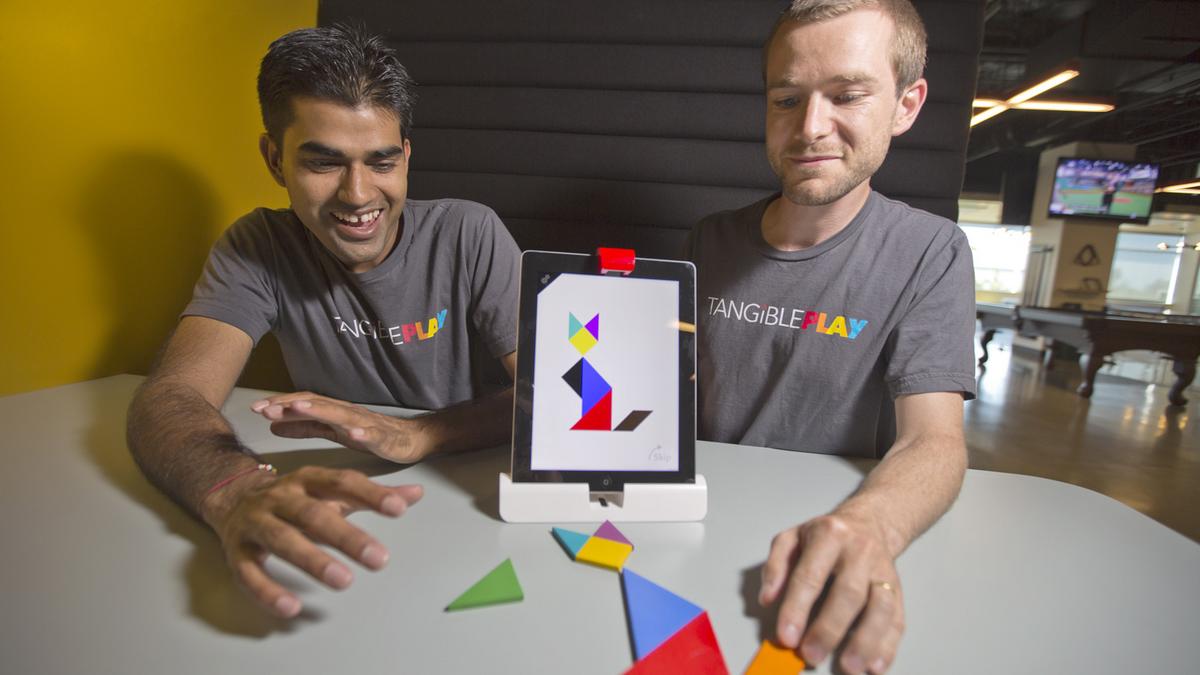 The company is off to a strong start as Osmo has already been adopted in more than 22,000 schools, has been named one of Time Magazine's best inventions, won the Parent's Choice Award, was selected for the prestigious Oppenheim Award, was a finalist for the Toy of the Year and is already being marketed in more than 30 countries.
The plus Osmo​
As I told you, Osmo has already been adopted in more than 22,000 schools and it's not for nothing. The company offers a significant advantage for the use of its products by groups and the centralization of achievements thanks to new technologies.
Additional Words Albums: it is possible to create your own Words albums to address specific topics or to download some of them made available by parents or teachers.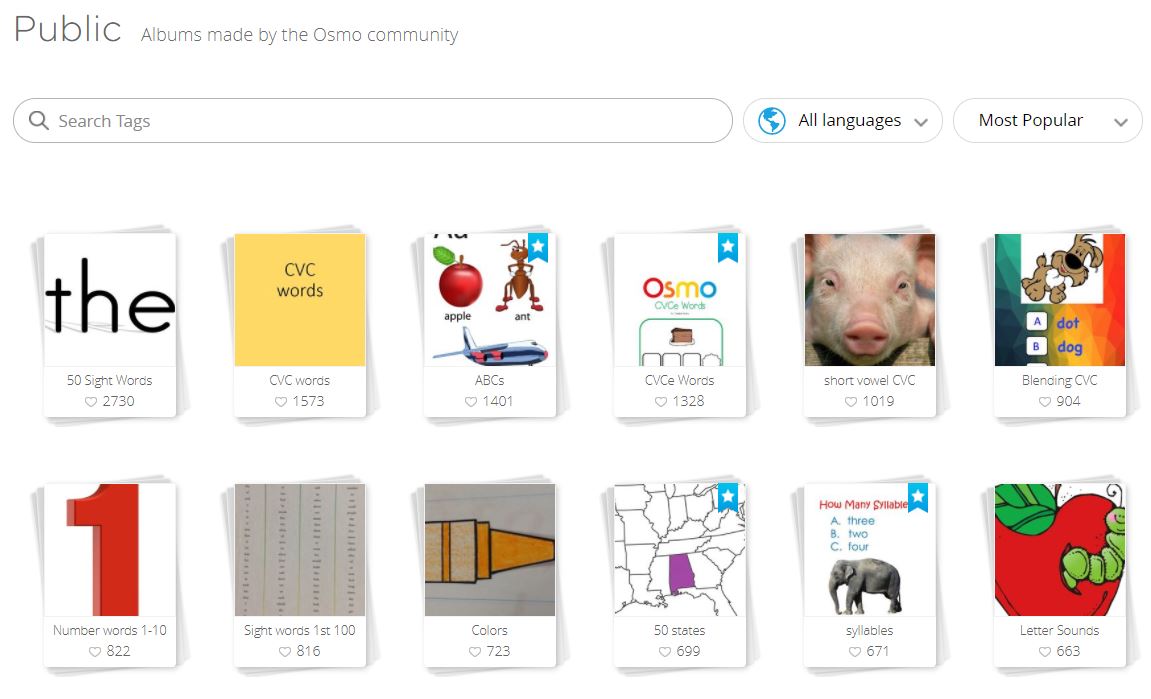 Saving and sharing drawings: it is possible to save drawings to easily share them with other people in a group or the family.
An important Osmo community: this community allows you to have different questions, points of view or ways of playing proposed by the community.
Profile management and progress monitoring: The creation of profiles allows teachers or parents to monitor the progress and activities of each child separately.
Connecting classrooms: the activation code provided by Osmo allows teachers to easily connect to all students in a class.
Osmo Video
Finally, I suggest you watch this video presentation of the Osmo kits by the brand itself.
Robot Advance is the official partner of a large number of schools. Offering educational and programmable robots that allow younger children to learn these new aspects in a fun and entertaining way is what we have been doing for several years. Find on our website all our packs of educational robots for schools. Feel free to contact us at 0437479145 or by email at contact@robot-advance.com for more information.