The Lego Mindstorms Education team informs us this week that from now on it collaborates with CoderZ, an online robotics learning and programming environment through STEM.
What's CoderZ?

CoderZ allows students from all over the world to use STEM (Sciences, Technology, Engineering and Mathematics) with the goal of real and virtual coding for robots. CoderZ was developed by Intelitek, a company with more than 30 year experiences in educational robotics.
With CoderZ 3D simulation, schools can introduce or spread the Lego Mindstorms EV3 programs and release new efficient learning activities. The content included in CoderZ focuses on the programming of EV3 platform by using either a visual interface of blocks on Java, or the code programming directly online. So these two lines enable to make CoderZ usable by beginners as well as by experts in programming, according to their facility of coding.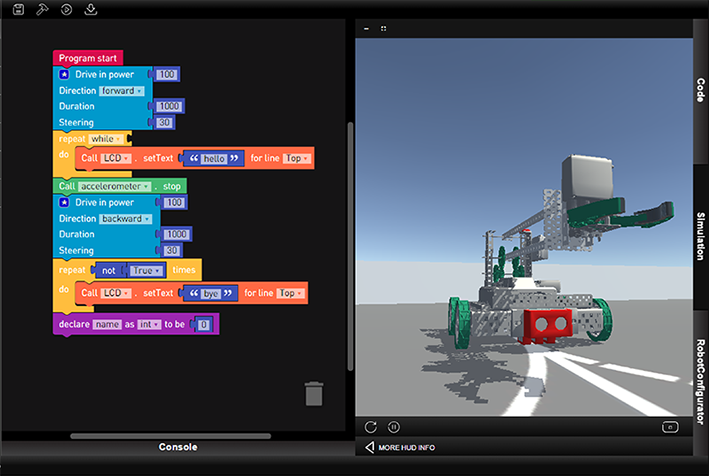 The strengths of CoderZ
Access to your programs, contents and launch simulations where you have a simple internet connexion.
Directly program in Java or using visual editor and blocks programming.
Launch robots simulations in many 3D simulations stages
Handle your classes and follow the improvement of your students
Increase students' involvement thanks to those more playful activities through the robotics coding and programming.
Get help from the community and help center of CoderZ
CoderZ is available in English and Spanish
Minimums required for CoderZ
PC running on Windows, Mac OS or Chromebook
Chrome navigation
Internet connexion
Work with lego Mindstorms EV3 education requires the preliminary installation of Lejos Firmware (Java for Lego Mindstorms) on a micro SD cart
Coder Z in video
Nothing is clearer than a video to become aware of the possibilities brought by CoderZ
To know more about CoderZ
Why children must learn coding as a second langage : here
Why you have to teach children how to code: here
However, the collaboration between Lego Education and CoderZ don't include the support of Lego Education or guarantee related to the CoderZ online environment/contents.
Find also all our educational robots on Robot Advance