To cope with the multiplication of vacuum cleaning robots available on the market, Robot-Advance offers to provide an overview on the criteria that really matter. Points that will allow you comparing knowingly the models you want. Navigation system, filters, noise level… Criteria to work on before choosing the vacuum cleaning robot (lien rubrique) that will suits your needs.
The criteria that matter!
Navigation system and programming
One of the main strengths of the vacuum cleaning robot is its capacity to vacuum clean your house when you are not here. It is important to compare the navigation systems which must be simple, efficient, have a good obstacles managing, and have a precise vacuum of surfaces.
The programming of the robot is really a plus and will allow scheduling the day and hour of robot's launching. The robot will work only when you wish. The programming can be made by remote-control or directly on the robot according to the model you chose.
The filter of the vacuum cleaning robot
There are plenty of different filter types which allow a more or less efficient cleaning of your floors: classical filters, anti-allergen filters to hold more dust particles or HEPA filter (High Efficiency Particles Arresting) defining devices able to filter in one time more than 99, 97% of particles.
According the vacuum cleaning robot, filters will be to change more or less often and easily. Whether the chosen filter, it still will stay performing to vacuum cleaning your floors.
The noise level of the robot
This point is essential if you wish to make your robot work during the night but will be less essential if you are planning to make it work while you're not at home. You need to see according to your needs which criteria to prioritize: noise, performance, programming...
Not all brands communicate on the noise of domestic robots but there is an average noise level of 60 to 70 decibels with a bit more than 50 for the most silent robots. Be careful, a silent robot does not always imply more performing robot!
What price for a vacuum cleaning robot?
The prices of the vacuum cleaning robots are among €200 to €800. You can of course find more expensive robots but first think about the characteristics evoked above: it has been proven that the most expensive vacuum cleaning robots are not only the most performing. Count on about €500 to stop vacuum cleaning your house for several years.
The vacuum quality, noise level, type of programming/navigation, quality of sensors or even additional functionalities such as vocal command, can make your price higher.
Vacuum cleaning robots Roomba by Irobot
Irobot is a brand that makes innovating vacuum cleaning robots, for all budgets and guaranteeing an excellent quality and price ratio. Performing robots which can offer, according models an autonomous navigation in several pieces, an automatic refill, 3 steps cleaning systems, HEPA filters (the most performing) an even an application of distance programming.
Irobot Roomba 782E
​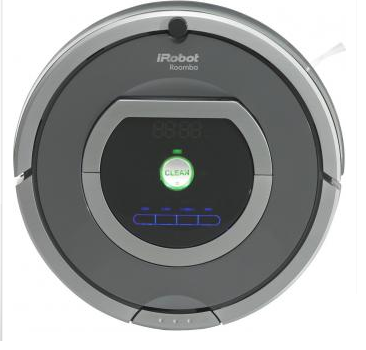 Strengths:
Optical and acoustic sensors: avoids stairs, obstacles and electric cables
Visual detection of the dirtiest areas
Roomba 782E robot by Irobot goes back on its charging base by itself.
Cleans carpets floor, tiling and linoleum
Programming a cleaning schedule for 7 days
Two HEPA filters (vacuum more than 99% dust particles)
Technical characteristics:
Dimensions of the Roomba 782E (cm): 35 (D) x 9,2 (H)
Weight of the robot (kg): 3, 85
Power (V): 240
Noise level (dB): 61
Type of filtration : HEPA
Charging time : about 3 hours
See the complete description of the Irobot Roomba 782E
Irobot Roomba 615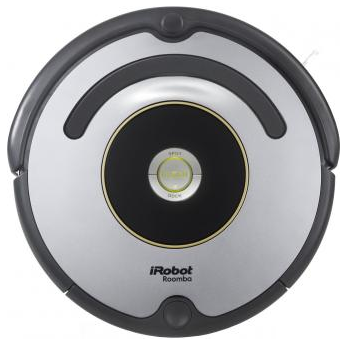 Strengths:
Avoids stars, obstacles and electrical cables
Cleans under furniture and along baseboards
New battery Irobot XLife: twice as much cleaning cycles
The Roomba 615 by robot charges automatically after using
Cleans carpet and hard floors
Turning lateral brushes
Technical characteristics:
Noise level: 61 dB
Autonomy: until 120 minutes
Charging time: 3 hours
Delivered with the vacuum cleaning robot: a lateral brush, an AeroVac tray, a charging base Home Base with integrated power supply and an XLife Irobot battery.
See the complete description of the vacuum cleaning robot Irobot Roomba 615
Video of the vacuum cleaning robot Irobot Roomba 980 (English)