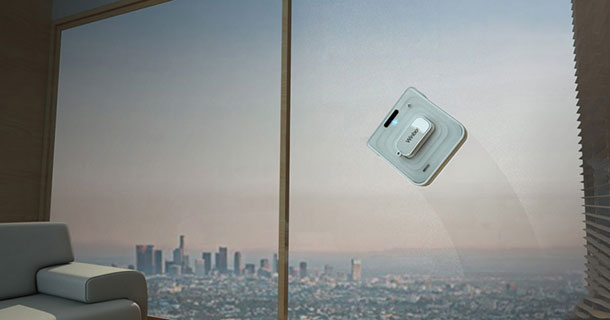 Winbot the windows cleaning robot
Ecovas offers different and really performing models to facilitate the window cleaning. A household chore that can be long and tedious is now entirely realizable by the new models of by Ecovacs.windows cleaning robots Winbot by Ecovacs.
They clean vertical and horizontal windows with or without edges, are really simple to use and let no scratch or spot on your single or double glazing. Notice that the cleaning can only be on smooth windows: it must not be frosted glass or have stickers or decalcomania on it.
Discover in this comparative the characteristics and functions of the 3 star models of the range: the Winbot 710, Winbot 730 and Winbot 930.
General characteristics
Characteristics

Ecovacs Winbot
710

Ecovacs Winbot
930

Ecovacs Winbot
730

Weight
3,4 Kg
2,2 Kg
4 Kg
Dimensions
23,2 x 22,5 x 9,5
30,2 x 30,2 x 12,5
33,2 x 22,5 x 9,5
Capacity of the water tank
No tank : washable wipes
No tank : washable wipes
No tank : washable wipes
Guarantee
2 years
2 years
2 years
Charging time
Unlimited with cable 30mins on battery operation
Unlimited with cable 30mins on battery operation
Unlimited with cable 30mins on battery operation
Autonomy (Mn)
0,468 L
0,3 L
0,3 L
Recommended surface
Simple or double glazing surface
Simple or double glazing surface
Simple or double glazing surface
Type of guidance
Zig-Zag from to to bottom and right to left
iSmart Drive System: cleans the entire surface
Zig-Zag from to to bottom and right to left
Remote-control
Yes
Yes
Yes
Prix
299,99 €
399.99€
349,99€
The Winbot390 robot is the most expansive model, a price that can be justified by several additional functionalities such as the intelligent navigation system, its faster charging time, more numerous accessories for a better windows cleaning or event its lighter weight.
Find below in details the specific functionalities of each Winbot robot.
Winbot 730 by Ecovacs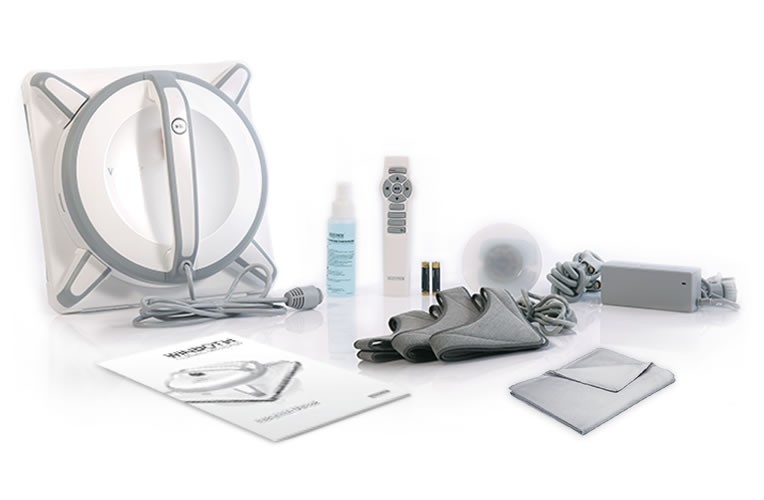 The Winbot 930 is our most expensive window cleaning robot but also the more efficient and appreciable robot: it has, since 2014, won several awards in France and aboard for its innovations and its efficiency.
The difference is of course due to its design but also its navigation possibilities. Its notable strengths are:
SMARTMOVE navigation for fast 360° degrees
PATHFINDER navigation for intelligent navigation with cleaning memory
Cleaning of simple and double glazing, vertical cleaning, mirrors cleaning and other surfaces with or without frames.
The product also has a remote control, an extension cord, a cleaning liquid and 3 washable MOPS in washing-machine.
This models has several innovations brought in the world of windows cleaning robots: the Winbot 930 by Ecovacs is more faster and efficient to clean any type of surface, memorize the moves it has already done and clean much more easier thanks to 360° rotations.
So it covers all surfaces to wash and is equipped with large cleaning MOPs made of microfibers that permit a good absorption capacity of dust and dirt.
Finally, this windows cleaning robot from the latest generation has many intelligent sensors it will avoid without any problem handles or windows frames if the frame is minimum 5mm large.
For more indications: the Winbot 930 will need about 4 minutes to clean a 1.5m² windows, 8 minutes for a 3m² windows, 16minutes for a 6m² windows and so on…
Some safety elements are important and make it different:
If the inside suction device detects a pressure lost, the robot will immediately change direction and trajectory.
An additional battery that charges in only 1h30 hours for 30 minutes of additional autonomy.
The safety pod (suction cup) is always safe: in case of power failure it won't touch the ground!
Winbot 710 by Ecovacs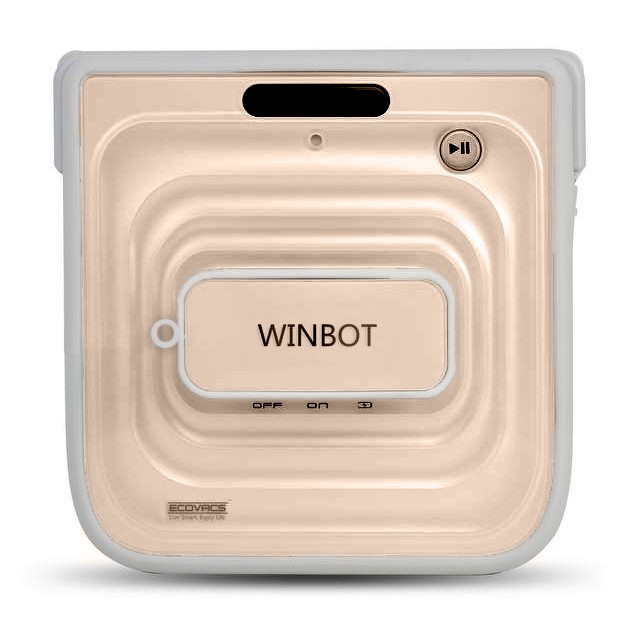 The Winbot 710 cleans vertical surfaces. It can without any problem clean the windows of a window well as long as it is poised in a vertical way. This mode of cleaning doesn't need the use of a special detergent: you can hand-clean the wipes or put them in the washing machine.
The cleaned window must have a minimum dimension of 45 cm wide and 60cm long. The Winbot 710 can be plugged with its 3meters long cable for a 0,15m per seconds cleaning and an electrical power of 35W.
It cleans all windows whether their surface or thickness (minimum 5 mm): first the robot calculates the surface it has to clean before starting intelligent moves in zig-zag from top to bottom and left to right. Those moves allow it to clean the whole window.
It cleans without any scratches or stains thanks to a front pad to wet by spraying a cleaning liquid, a squeegee that collects tiny particles and a back pad that cleans the windows and dry it once the robot has passed.
This window cleaning robot has also many notable advantages:
PATHFINDER navigation: methodical moving
Simple and double glazing, vertical and hard to reach access.
3 steps cleaning thanks to a thick MOP washable in cleaning machine.
Included remote control and extension cord
Winbot 730 by Ecovacs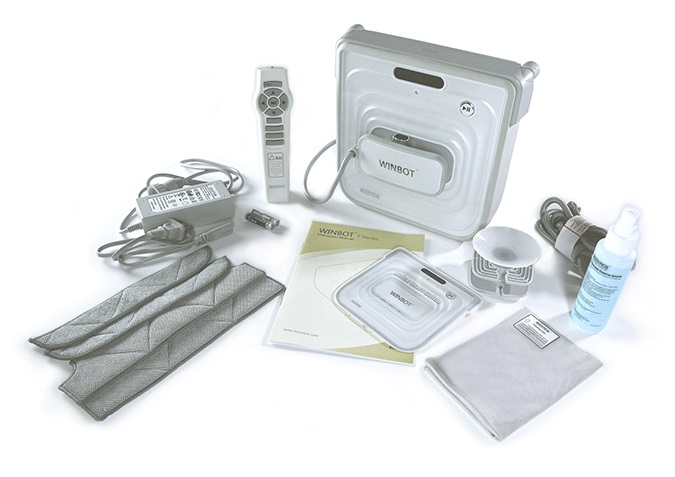 The Winbot 730 is very lookalike to the 710 version but also has notable differences in its strengths
PATHFINDER navigation for methodical moves
Gap sensor for frameless surfaces such as shower doors
Efficient on simple and double glazing and on vertical and hard to reach surfaces
Thick MPO washable in washing machine
Included remote control and extension cord
Like the other models the 730 is always attached to an electric plug and moves thanks to crawlers for a work speed of approximately 0.15m/s. It works on any kind of surface more than 5mm thick. The included extension cord 5m30 long should be long enough for the majority of indoor windows.
The functioning still stay the same: it analyzes the surface to clean before doing zigzag moves to do the cleaning cycle and come back to the initial position!
Winbot cleans windows in video!