Body Cardio is the connected scale by Withings that is more than a simple scale. With a refined look and only 1.8cm thick, Body Cardio is a extremely thin scale, its aluminum base makes it stable and the 4 sensors with Position Control technology makes it precise and indispensable to monitor your cardiac health and physical health.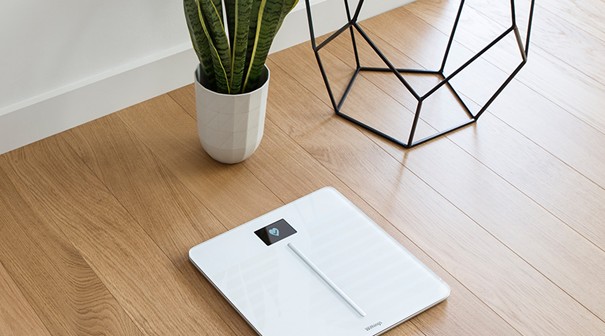 Physical analysis
Body Cardio, like Body measure in addition to your weight for more data that you need to know to know and understand your body:
The fat mass: the percentage of fat mass of your body is an excellent indicator for your shape and weight.
Muscular mass: to become more muscled or more performing, sportsmen or less sportive can know the weight of their muscles.
Hydric mass: the percentage of water in your body informs you about your hydration and water retention.
Bone mass: it completes the global vision you have of your body.
Analysis and summary of cardiovascular health
Cardio Body is able to give you your cardiac rhythm but not only: it gives you your pulse velocity. What's the pulse velocity? The pulse velocity is a synthesis of your lifestyle and the main risk factors (blood pressure and cholesterol). It is an indicator approved by the medical community and can help doing a health summary of your cardio health. At each pulse of your heart, a pulse is going from your heart to your arteries, the more this wave is fast (that means your arteries are rigid), the more you can develop hypertension or another type of cardiovascular disease. When Body Cardio measures your pulse velocity, and is able to tell you exactly if it is optimal or not for your age and can give you tips to improve it (change your diet, be more active, etc.).
Body Cardio is also able to give you the weather so you can adapt your outfit of the day. It can also be compatible with the activity tracker Activité Steel and the wireless blood pressure monitor Withings. Intelligent, it can recognize and associate the right profile for 8 users.
A performing and convenient application
All of your weighing are automatically synchronized via Wi-Fi or Bluetooth on the application Health Mate. All of your data of weight, physical composition, cardiac rhythm as well as pulse velocity are easily accessible and interpretable so you can see what the effects are on your health of a changing in your life.
The application is available for free on iOS and Android and is a real personal coach. You can decide a weight goal and Health Mate will indicate you what the number of calories you need per day is. It will also tell you if you can have more calories according to your activity. You can also have tips and a weekly summary.
Finally, Health Mate is compatible with hundreds of other applications, it centralizes data like: Runtastic, Loseit…
Technical characteristics
Brand: Withings
Product name: Body Cardio Black or white
Compatibility: iOS 8 and above; Android 2.3.3 and above

iPhone 4 and above, iPod Touch 4th generation and above, iPad 2nd generation and above
Android requires an internet connection

Wireless synchronization:
Wi-Fi 802.11 b/g/n 2.4 Ghz, compatible with security protocols WEP/WPA/WPA2-personal
Connection: Bluetooth (Bluetooth Smart Ready)
Followed data: Weight, Physical composition, cardiac rhythm (pulse per minute), pulse velocity
Battery: Lithium-Ion (micro USB cable included)
Battery Autonomy: 1 year
Applications