Face to the surge of interactive dogs available everywhere, we decided to tell you more about the star of robots dogs WowWee : the CHIP.

These pets are in the spotlight with the innovations that we offer each year, just like the stars toy robot brands: Zoomer and WowWee.
For some time now, they propose to adopt a robot dog that has all characters of a real: the tail that moves, reactions more real than nature and only two things they do not do: get dirty your interior and demand you to eat.
Here, we are interested in the CHIP Dog, a latest generation high-tech robot: where does it come from, who offers it, what are its technical characters and technologies that it contains? Decoding now!
Where did this dog come from?
As you may know, it's the brand WowWee which unveiled the CHIP robot, among others, in the famous show CES 2016 last year. Consumer Electronics Show is the largest gathering in the world devoted to technical innovation in consumer electronics. It's held each year in Nevada, Las Vegas and is organized by the Consumer Technology Association.
Thus, it's during this gathering that we found out this robot dog WowWee Chip with truly amazing characteristics. You can find this video that presents this dog at the moment of CES 2016 here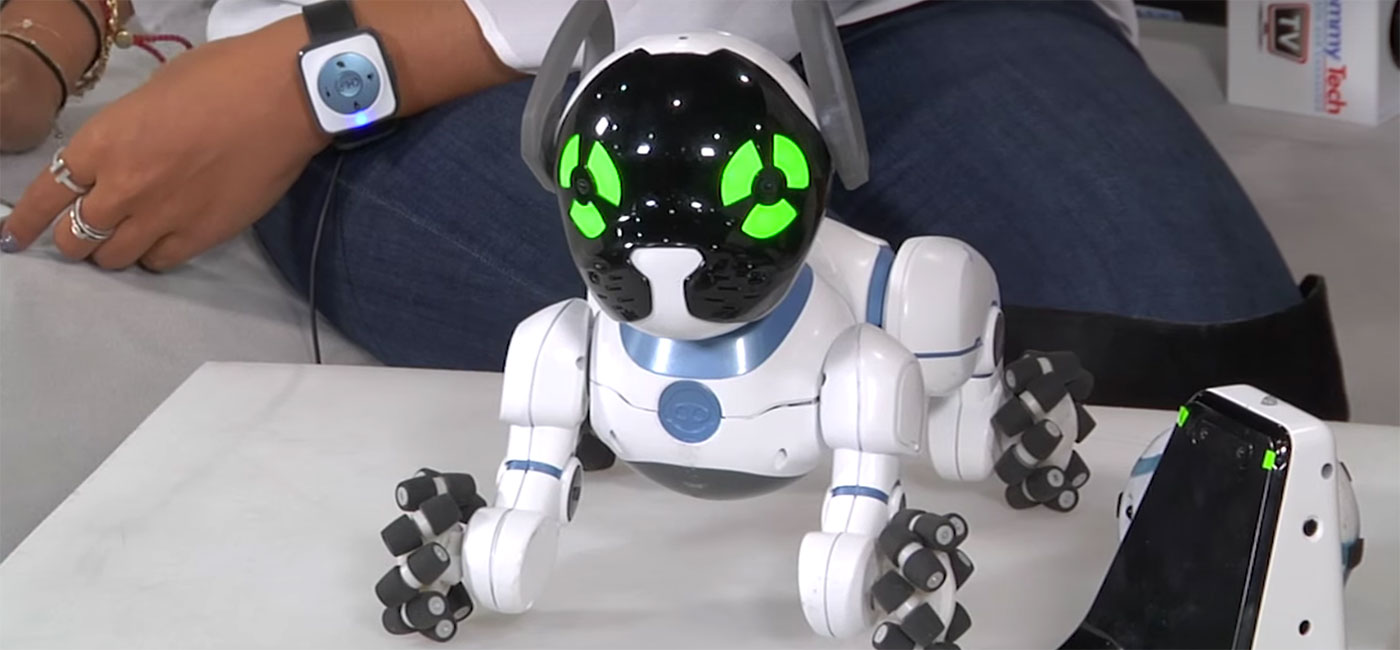 You told about technology?
If I talk to you about a dog robot not like the others, it's not for nothing. Here are the details of technological elements that make the doggy so high-tech and allows it to appear more real than nature:
BeaconSense that allows WowWee products being aware of the environment around them and interacting with it.
GestureSense that will allow your puppy to react to your gestures such as the clap of hands, the sweeping, or even the caresses you want to give to it.
Bluetooth Low Energy to connect to your devices like your tablet or smartphone (iPhone and Android) by Bluetooth.
Infrared vision to go even further in the appreciation of the environment thanks to the vision that this technology brings
Mecanum Wheels: omni-directional wheels designed especially for this WowWee robot CHIP. They allow the dog to run faster and move more easily on different existing ground surfaces.
Touch sensors: they allow the puppy CHIP to "feel" while you touch it and bring the precision into interactions that it will have in response.
Gyroscope / Accelerometer which allow measuring centrifugal force and orientation so that the robot knows if it is on the ground or you have caught it in your hands.
Vocal recognition allows your dog to respond to you when you say its name or you say a list of pre-recorded vocal commands
As you can see, WowWee doesn't laugh with the technology and has integrated into CHIP a lot of elements that bring a gaming experience and greater user satisfaction than other dog robot on the market!
A dog robot delivered with…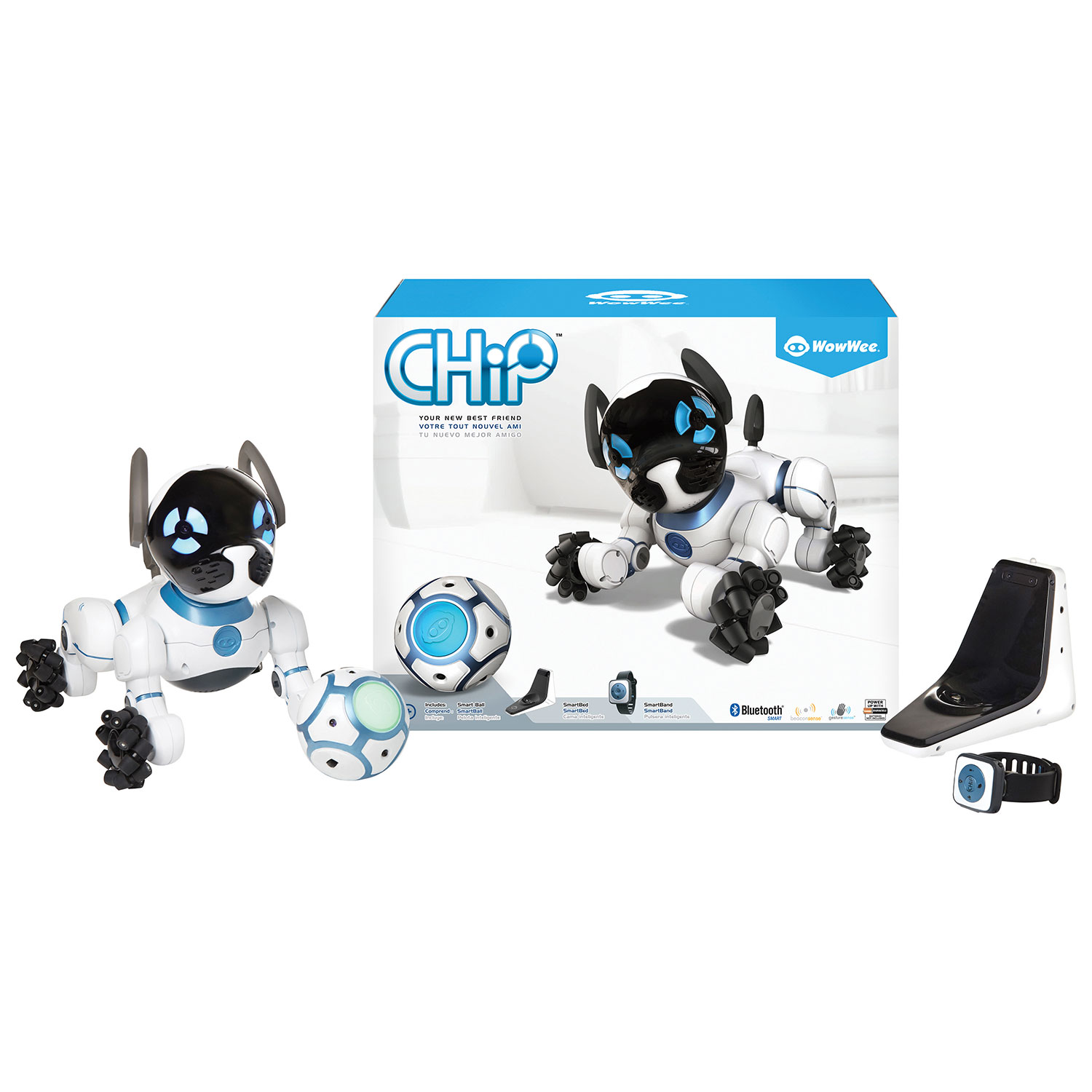 The technologies mentionned above are directly integrated into the dog but the box also contains three high-tech accessories which allow bringing some extra interactions and more interesting gaming experience.
To start with, the warch Smartband has a look of a connected watch and with whom you will not be separated. It's simply because it allows the dog CHIP to recognize you.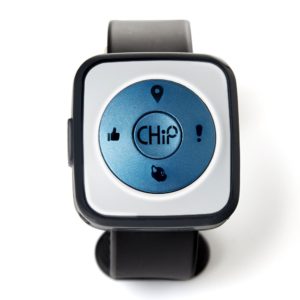 It's adjustable and also allows you to control the robot and to communicate with it by pointing out for example a good or bad behavior. A single CHIP can recognize two different Smartband watches that can give some ideas!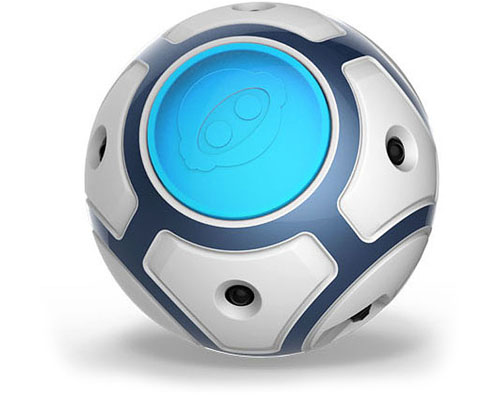 Then, you will discover the Smartball. An interactive robotic ball that brings new gaming experiences: shake it there and your dog will start to get excited and look for it everywhere. Send it and it will run around and get it for you.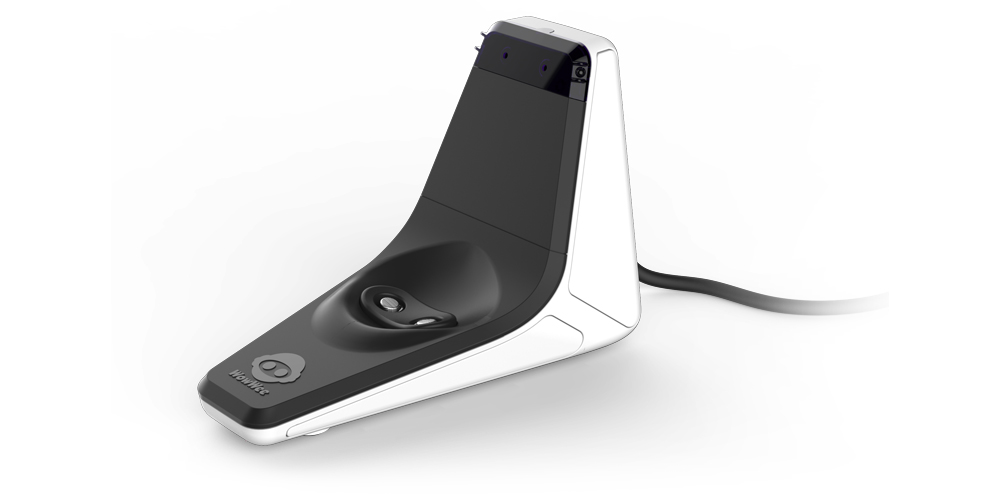 Finally, no need to worry about the battery, it stays with your dog robot like other models. The charging Station delivered with the dog will be simple to plug in and to left in a corner since CHIP will go there along when it is in need.
My new dog, what else does it do?
Here is a no-complete list of things that are possible with CHIP by WowWee and you will learn day after day to discover:
It interacts with the environment so that it can avoid obstacles.
Sensitive to touch, it reacts to your caresses and while you take it in your arms
It obeys your orders and hand claps
It learns new tricks thanks to the Smartband control wristband
The free application on smartphone helps you to understand it when it wants to play.
Discover the other possibilies on WowWee official chanel Youtube. You will find numerous tutorials to really know all about this dog robot: click here
The doggy CHIP on video
To finish, nothing better than to see it in action on this presentation video (in English) in order to see what it looks like and discover the different accessories that I said to you above in this article.