Click on the image below to consult the product sheet on our online store (Available from 15/10/2020)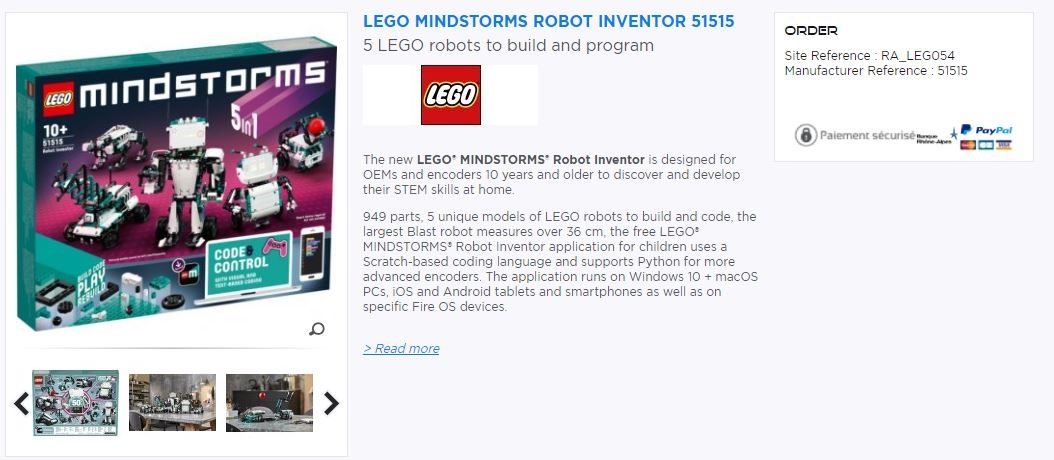 It had been more than 7 years since the launch of the well known and appreciated LEGO Mindstorms EV3, which is available on Robot-Advance as LEGO for the home or LEGO Education for the classroom. A new wind that will strongly appeal to all LEGO and robotics enthusiasts, who with this new LEGO Mindstorms Robot Inventor 51515, will be able to let their imagination run wild and further develop their building, coding, robotics and much more skills.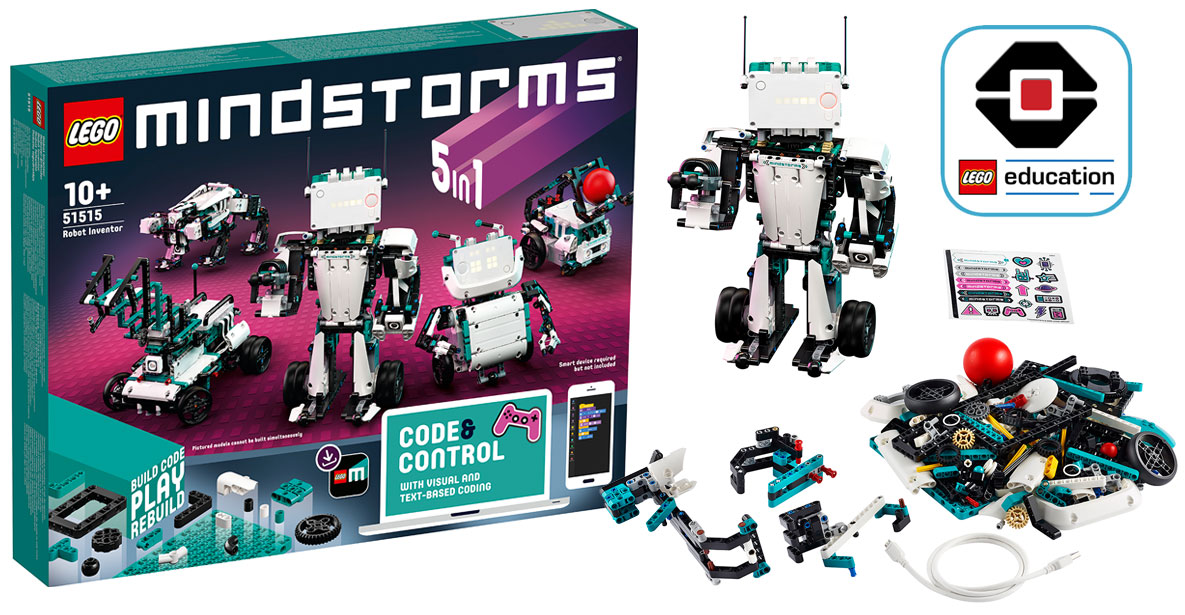 The most attentive among you will have noticed the "Retiring Soon" label on the LEGO Mindstorms EV3 (Home Edition) of the LEGO Shop, which will therefore be replaced by the end of 2020 by the LEGO Mindstorms Robot Invetor 51515. Discover in this article everything you need to know about this new LEGO Minstorms, the contents of the box, the price, features and possibilities.
LEGO Mindstorms Robot Inventor 51515
The new Robot Inventor whose box you can see in the picture above will be a box of 949 pieces that should be according to LEGO proposed to the general public at the beginning of the 4th quarter 2020 for a price of 359.99€, only a few euros less than the LEGO Mindstorms EV3 Home Edition.
Its big strength is that it allows you with its content to create 5 different robots that will each have different functionalities and features. Be careful, you will only be able to build the robots one by one with the 949 parts and therefore you will have to separate the old from the new LEGO robot to create a new LEGO robot. A rather very intelligent and advantageous system that will give the LEGO Mindstorms Robot Inventor a very long life span and a stronger desire for discovery.
This new Mindstorms 51515 will include a Rechargeable Smart Hub that you first saw in the newest LEGO Education Spike Prime and that opens up a lot of possibilities in terms of connections and components:
Bluetooth connection
Gyroscopes
Accelerometers
Engines
Sensors (Colors, ultrasounds...)
All these elements that will allow the remote control of the robot and the coding of very interesting functionalities.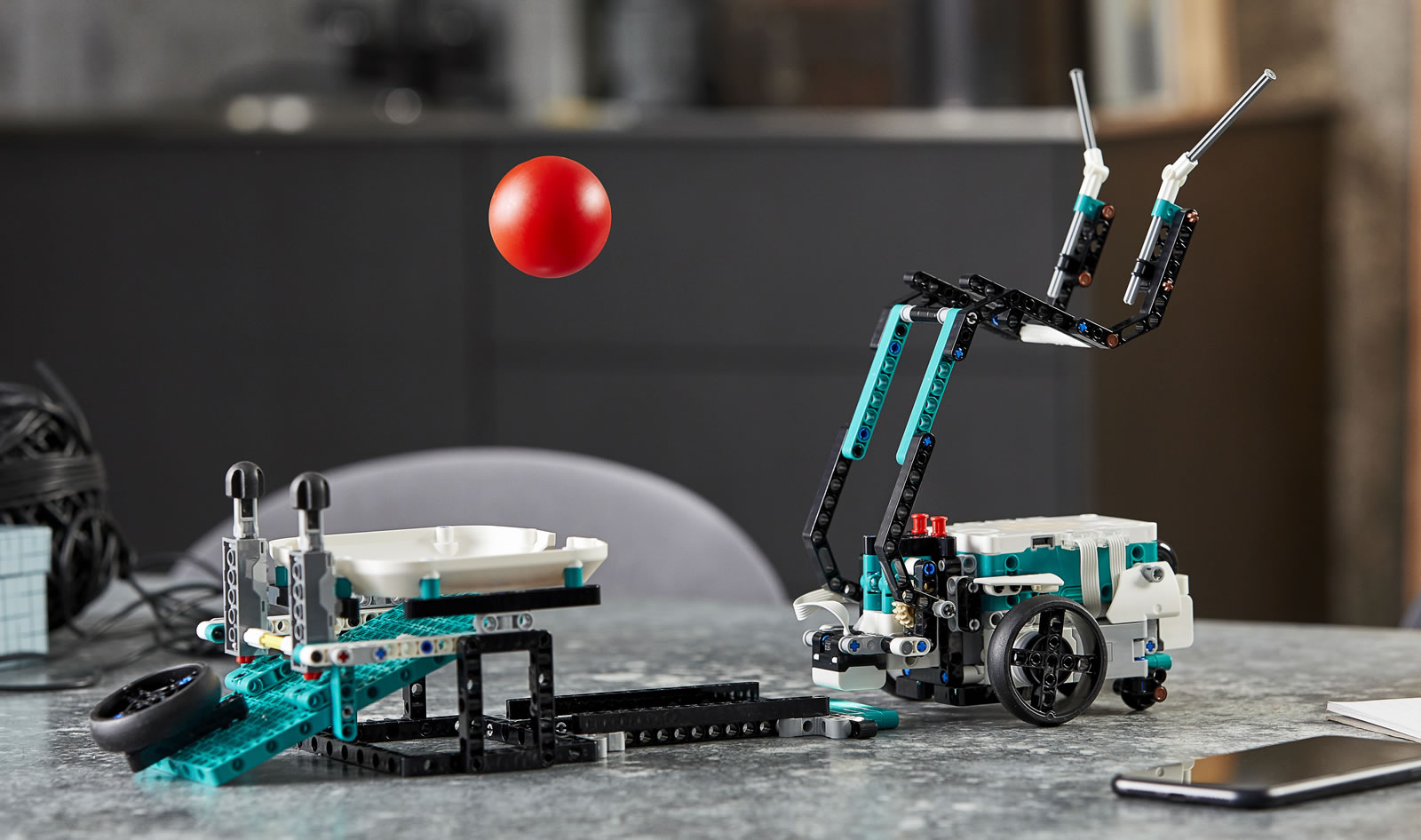 Robots to create with LEGO Mindstorms Robot Inventor
The five LEGO Mindstorms robots to be created are visible on the front of the new box but here is some additional information.
Blast: action robot. It can shoot or make its way through obstacles and grasp objects. The creators will be the ultimate commanders, programming it to analyze its environment and shoot darts if it detects danger. Perfect for guarding your room!
Charlie: Eccentric auxiliary robot that can give high fives, dance, play drums, give small gifts and charm friends with his smile.
Tricky: the sports robot of the gang, the ultimate athlete. Code it to complete the perfect slam dunk or master a multitude of sports such as basketball, bowling, football or others, the list is long.
Gelo: four-legged robot. Its unique mechanism allows it to walk, avoid obstacles and even perform tricks.
MVP: Modular vehicle platform. Create and code your own remote control and build the MVP into a buggy, crane, shooting turret or even a truck that will pick up the LEGO bricks left behind by other robots.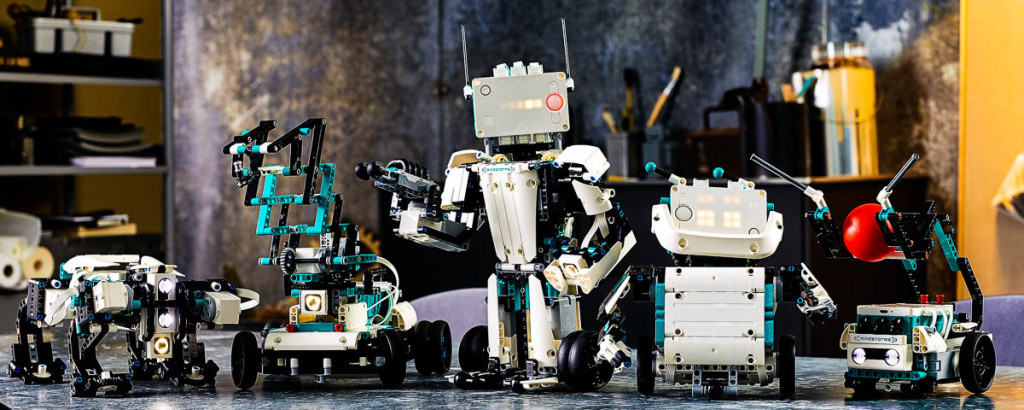 LEGO Mindstorms Robot Inventor Mobile Application
This new LEGO Mindstorms Robot Inventor will come with a dedicated and free mobile application. Those who would be afraid to go for it should be reassured, the coding via the application has been adapted to all levels:
Visual coding for beginners with a Scratch-based drag and drop system
Textual coding for the more advanced and direct writing of lines of code and Python support
The mobile application LEGO Robot Inventor will provide access to more than 50 activities to explore but also to diversify the remote controls for robot control:
Ability to create custom digital remote controls
Support for existing bluetooth controllers such as PS4 or Xbox one​
The mobile application's digital remote control generator will work on all Powered Up assemblies to tune the controllers with the construction and components.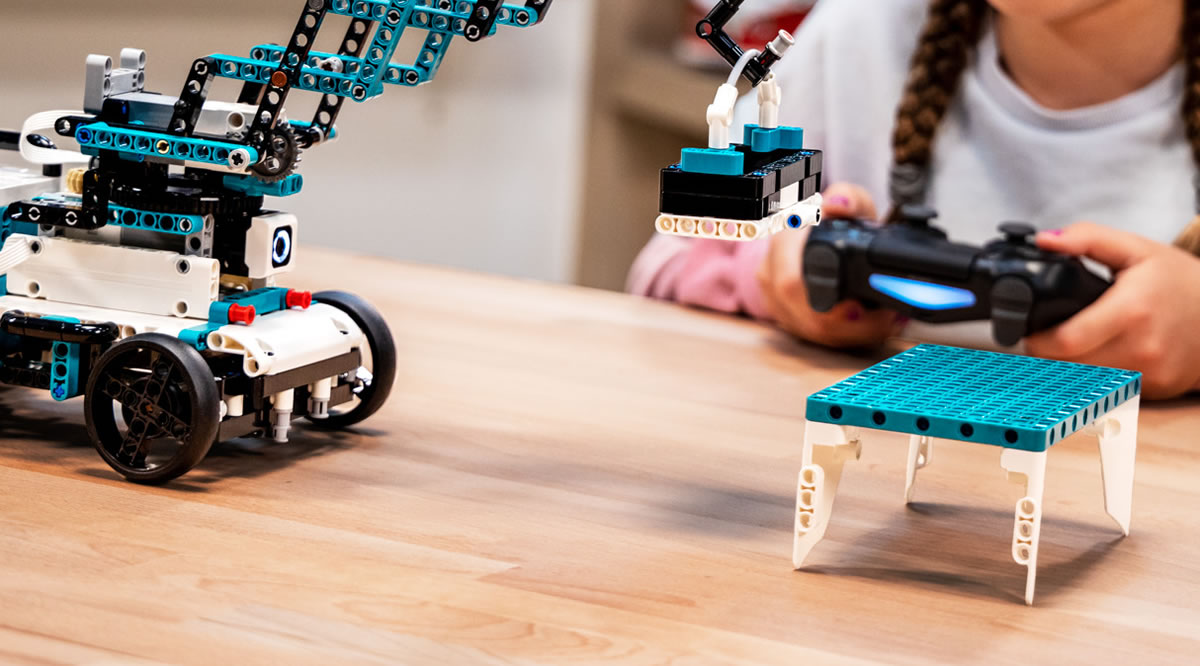 At the launch of the new LEGO Mindstorms, the mobile application will be operational on Windows 10, Mac, iOS, Android tablets and smartphones, and a few other specific devices. Building and coding instructions for each of the five models will only be available digitally via the application and not on paper in the box.
With Robot Inventor, LEGO has completely switched to the LEGO Power Functions 2.0 system with an identical interface for the :
LEGO Powered Up
LEGO Control Plus
LEGO Spike PRIME
LEGO Mindstorms avec Robot Inventor
Note that the new LEGO Power Functions 2.0 hardware is not compatible with the EV3.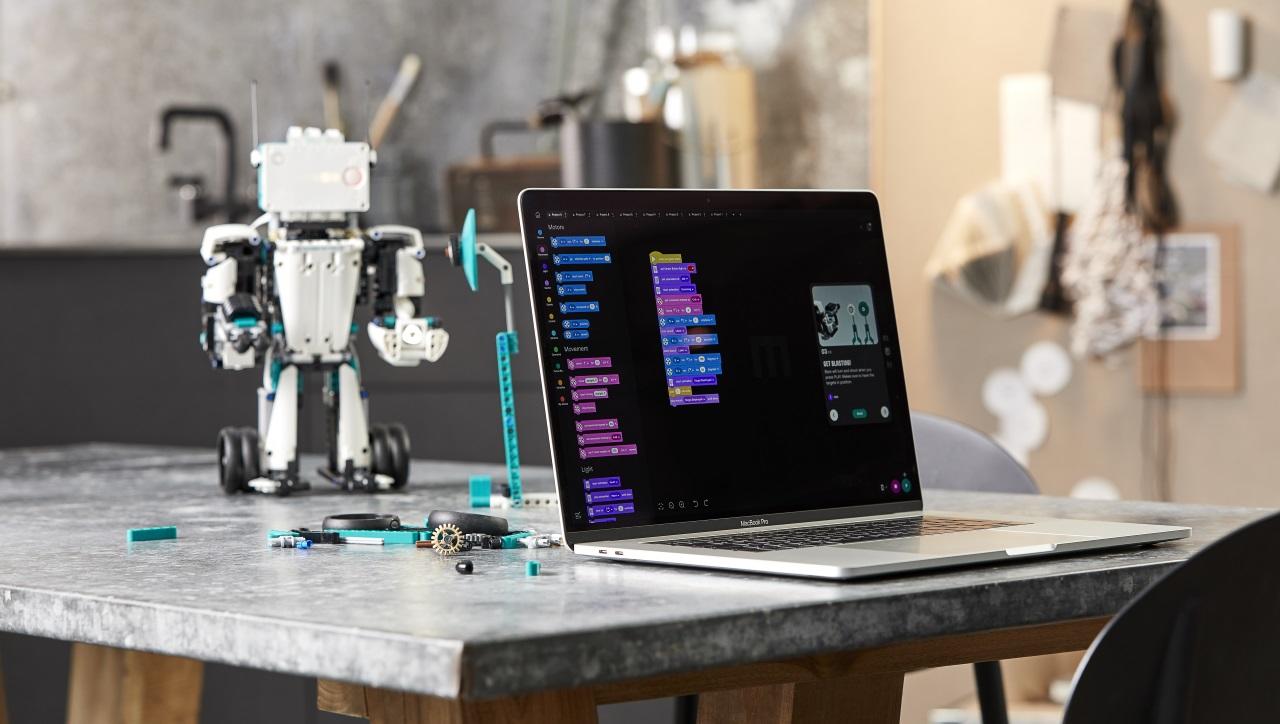 New LEGO Mindstorms elements
New features include the new Intelligent Hub, an advanced yet simple to use hub with 6 input/output ports to connect various sensors and motors. The Hub can also be used with LEGO Technic and System components to create fun and interactive robots.
LED array 5 × 5
Bluetooth connectivity
6-axis gyroscope / accelerometer
Includes a micro USB port for connectivity with compatible devices
Speaker
Rechargeable lithium-ion battery included
Below are other elements that you can find in the LEGO Mindstorms Robot inventor 51515 :
Colour sensor: capable of differentiating eight colours and measures reflected and ambient light from darkness/sunlight
Distance sensor: Detects obstacles, programmable LED "eyes" and built-in 6-pin adapter for third-party sensors, cards and do-it-yourself hardware.
4x medium-angular motors, integrated rotation sensor with absolute positioning
New base plate 7 x 11
New black wheels
New executives
Stay tuned for all LEGO and LEGO Education news !