From the educational range, LEGO® Education, LEGO® Education WeDo™2.0 will permit children to implicate themselves in a playful and interactive way in adapted scientific projects: engineering, technology and cording!
The goal is to give the pupils confidence thanks to proper learning program, which will get them ask themselves questions, define problems and create by themselves with their hands and mind their solutions!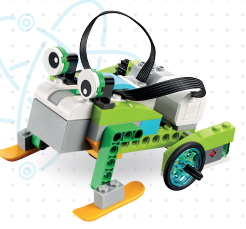 Structured projects base on national standards
LEGO® Education WeDo™2.0 offers three distinct types of projects, to motivate and encourage pupils through creation of motorized Lego solutions, modelling and appropriate and structured technology:
A starting project divided in 4 parts to teach the basic LEGO® Education WeDo™2.0 fucntions.
Eight guided projects step by steps, related on to another for a simplified introduction and first using.
Eight independent and opened projects (with a basic support) to get the pupils to explore and find solution by themselves.
Those different kinds of projects will facilitate the teaching of scientific subjects:
Life sciences: investigate on cycles, habitats, specificities, changes of environment.

Project e.g.: : metamorphosis of a frog and identification of characteristics of its organism, step by steps.

Engineering: : creating projects with constraints, prototypes and test models.

Project e.g.: imagine a solution to help saving animals in a dangerous situation.

Physical sciences: : explore forces and movements, its causes and effects.

Project e.g.: investigate on the facts that can make a car go faster and foresee the next moves.

Earth and space science: Discover the different climates, research of weather conditions and examine the risks linked to it.

Project e.g.: create an avalanche LEGO® to control the water level of a river according different models of rainfall.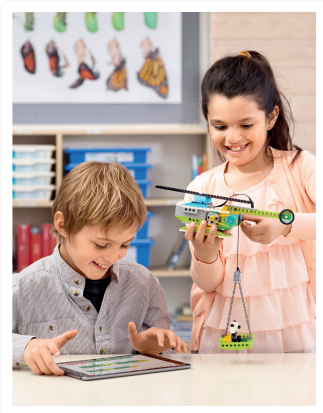 Software Wedo 2.0
The innovation of this LEGO® Education is mainly the programming of robots created thanks to applications for tablets or computer software. A simple and intuitive programming with no code lines and adapted to primary school pupils. A simple drag and drop of blocks with distinct functionalities will allow the LEGO® robots make moves and action you would have ​imagined.
LEGO® Education WeDo™2.0 Packs
Find below the different LEGO® Education WeDo™2.0 packs, available on Robot-Advance. Some offer a complete digital support to help you in the learning program but also to help you in the creation of your own projects. More than 40hours of project based on strict national standards that you can thicken with additional parts and products:
Vidéo Lego Wedo 2.0
Discover LEGO® Education WeDo™2.0
You need more informations about this Lego product ? Read Lego Boost vs Lego Wedo 2.0 !