Here is a robot that we certainly don't hear talk so much. But since its launch, word of mouth doesn't stop making it known next to the fans, and the two versions of humanoid robot deserve to be known. Today we pass the Meccano robots on the grill: components, features, assembly or controlling, we tell you all!
Meccanoid 2.0, what's it ?!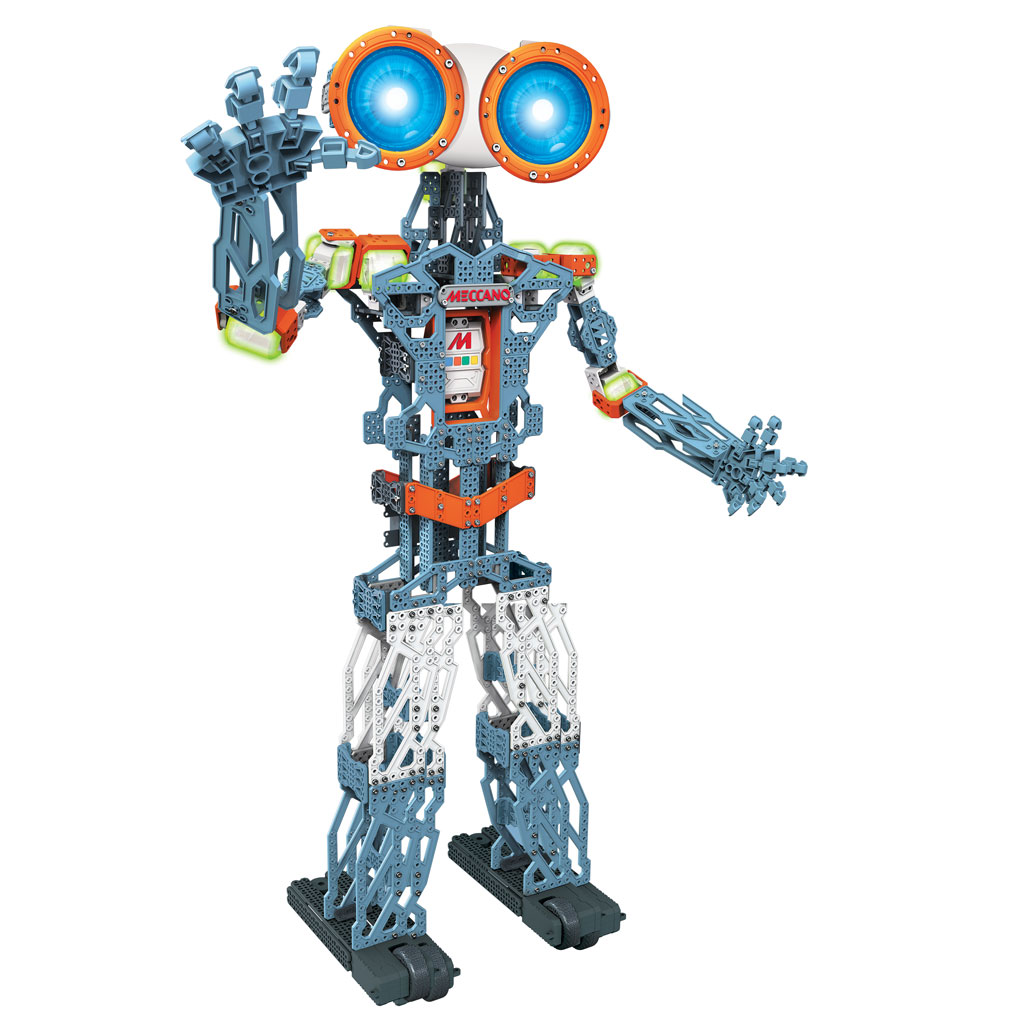 Firstly, the robot Meccanoid 2.0 is a progressive and intelligent robot. It is for assembling and once it's done, you should also program it. You would understand that not everything will be done in one day and it's to say that the satisfaction will be so great once the interactions are done.
There're two models that will have in general the same features that I will describes to you later but the obvious difference is in the number of pieces, their size and their power supply. There are actually two models of Meccanoid 2.0, the « little » robt with a vintage look:
Meccanoid 2.0 has 60 cm in height and 610 pieces. It runs with 4 LR20 batteries not including
Meccanoid 2.0 XL has 1m20 in height and 1200 pieces. It runs with a NI-MH 1800 mAh battery including.
The pieces and the assembly
As mentioned earlier, the content of the box varies between the number of pieces and power supply but the elements below are the same and that is these which allow to let Meccanoid 2.0 work.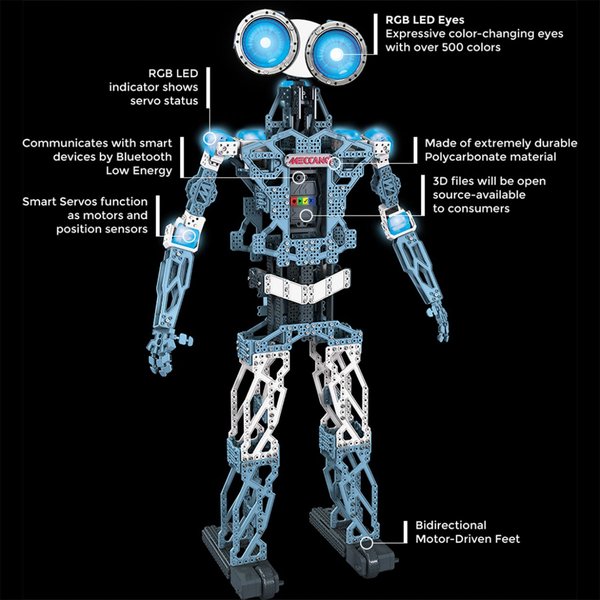 To start, the essential MeccaBrain. That's it who will make the robot work and it's interesting to note that we can active and power it before starting the assemblage. So it will give you by itself the assembly instructions that make experience much more sympathetic.
It will also allow to realize a check-up in the end of the robot construction (with its own humorous tone) in order to confirm you that all the connections have been correctly done.
We tell you that at the beginning, Meccano 2.0 only speaks English, but simply download an application it can speak French. The humanoid robot is equipped a USB socket, that makes transfers childish!
Then you will find other classical elements that we can see on all of other programmable toys robots to construct like the servomotors, the motors, the LEDs, the assemblage notice or even the tools to reach the result.
The Meccanoid 2.0 is also equipped a speaker to react to your remarks, a motion detection system, an all-terrain track, a video camera, a Google/MSN relay, and so on.
We recommend you to take attention when assembling the wheels; don't wedge the wires when closing the hull. It will be a sensible point, for the rest no problems!
The toy robot's features
It has so many and here are some that will give you the desire to discover the others by yourselves. The toy robot speaks over 100 different sentences, will tell you an unlimited number of jokes that it has the secret and will invite you to shake his hand or dance.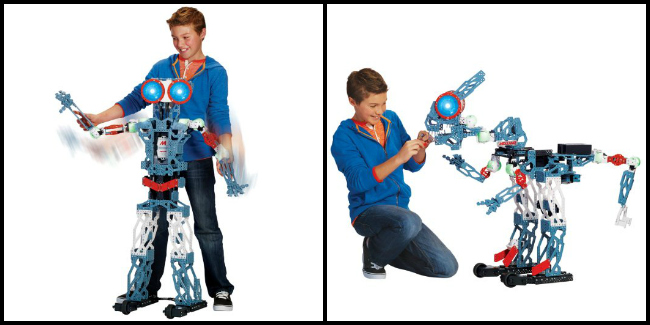 You will also have 4 distinct ways to control it directly:
Take it by the hand and guide it
Record motions and words that it will repeat thanks to L.I.M mode: Learned Intelligent Motion
Download the app and order it with your tablet or smartphone connected by Bluetooth
Place your iPhone in the belly cockpit of the robot provided for this purpose and invite him to repeat your movements
The use of the features is childish and will not take you more than 10 minutes before you master all of them!
It's interesting to note that it's possible to take off and recreate the robot in other shape. That will allow extending gaming experience and the desire to discover new things.
Meccanoid 2.0 in action
Nothing is better than a video of a Meccano Tech robot in action to summarize all I have just described. Of course if you have any questions, do not hesitate to contact us.