There is no denying that educational robots are on the rise this year. A lot of projects are proposed on participatory funding platforms and most are successful in obtaining their funding. This is the case of the KUBO educational robot, which has been very well relayed by the greats of technology and information.
Le robot KUBO est maintenant disponible sur Robot-Advance : Consultez la rubrique dédiée au robot KUBO.
Kubo, puzzle robot for educational purposes
The objective of this educational robot is to teach young people from the age of 3 the basics of programming. You may think it's a little young, but Kubo's puzzle system makes it very easy to understand and use.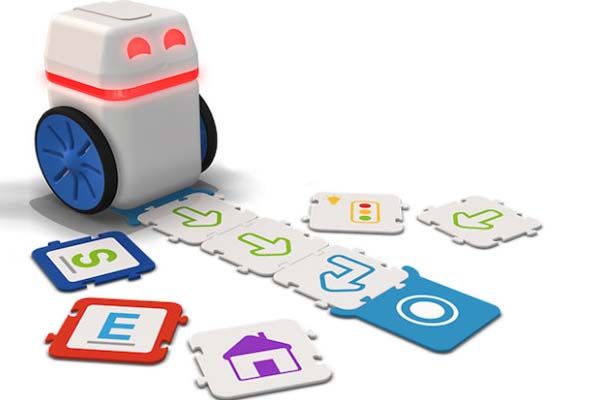 The Kubo kit consists of a small robot on two wheels and a set of thin puzzle pieces to fit together to create programming chains and evolve the robot. These cards are equipped with symbols, letters or numbers on one side of the electronic circuit and on the other side to broaden the learning field.
The Kubo robot system will also of course serve parents who are not always comfortable with this basic code or programming language. They will thus be able to support their children in this first educational approach. The Kubo robot is designed for children between 3 and 10 years old.
The Kubo robot in schools
Comme tout robot éducatif, la marque a prévu une adaptation spécifique pour les établissements scolaires. Il est en effet possible d'acheter des packs mais il existe également une plateforme de soutien pour fournir des exercices et objectifs à atteindre en classe (Plateforme kubo.education)
Like any educational robot, the brand has planned a specific adaptation for schools. It is indeed possible to buy packs but there is also a support platform to provide exercises and objectives to be achieved in class (kubo.education platform)
The Kubo educational robot is already in use in some schools in Sweden and Denmark. Two countries with a reputation for making the right educational choices and often ahead of their time. No doubt we will very quickly see this puzzle robot in schools throughout the rest of Europe.
The cards contain symbols but also numbers or letters. They allow the youngest to learn some basic spelling or mathematics. A good preparatory step before going to higher level classes.
Technical specifications and content
This diagram below will give you information about the technical components of Kubo, which consists of a head to clip onto its body to put it in working order.
As the robot is already available on the Kubo website, the kits available and those planned are:
The basic programming kit
A more advanced kit, for programming always
A kit for with parts around the alphabet
A kit around mathematics with numbers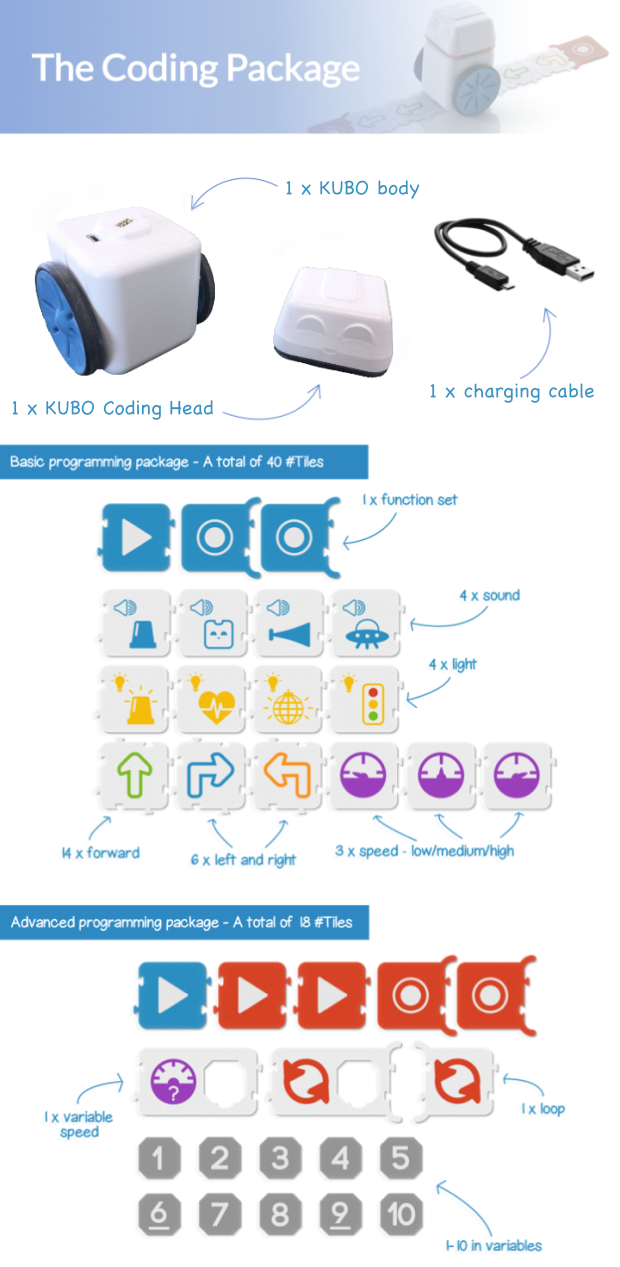 For the moment, only single programming kits and 10-pack programming kits for schools are available. The first one for 259€ and the second one for 2399€.
Robot Kubo, acclaimed by the media
This educational robot was presented at the CES in Las Vegas 2017. Since then, it has never stopped being talked about by the greats of technology and that is why I am presenting it to you today.
TechCrunch which states that the Kubo robot stood out from the crowd at CES 2017
The Forbes which designates it as the European business that will have to be closely followed this year
And many others praise it in France, Portugal or the United States: Le Point, Tech Age kids, Tom's Guide, France24, Curiosity...
Kubo in video
Finally, a video of the Kubo robot in action, a bet to make for your classes for the year 2018!
Discover on Robot Advance all our news about educational robots such as :