Many educational robots have appeared this year and as Christmas approaches, it is high time to take a look at them and especially to help you see more clearly.
Make no mistake about it, these educational robots can be adapted to schools and their classes thanks to school packs but they can also and above all be used by all children at home. Everyone has the necessary equipment since everything is contained in the boxes and all you need is a computer, a telephone or a tablet to teach the youngest to code or program.
The objective of any educational robot: to learn. In a playful, interesting way and especially without giving the impression of it to children (but also to adults), who could quickly lose the thread and their concentration. Here is a list of some of the new educational robots you could offer as a Christmas gift.
The Osmo coding Awbie educational kit
You were recently introduced to the new Osmo educational kits. A real revolution since it is no longer a question of programming on a screen to move your robot but of using hardware elements in front of an iPad or iPhone screen to interact with the educational application launched on the device. There are different kits but Christmas being the opportunity to dream a little, I recommend this Awbie kit in particular.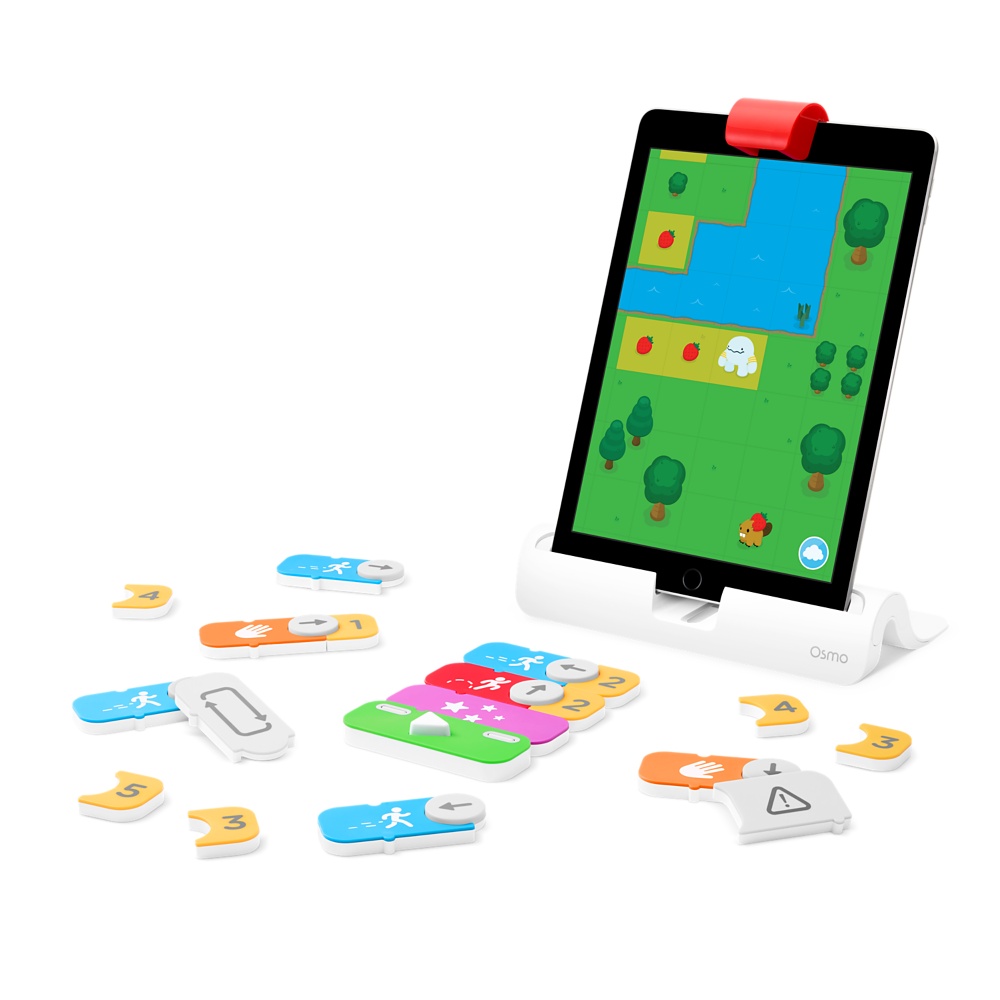 It offers to learn programming but thanks to an application that immerses you in the adventure of Awbie. A friendly hero who will have to be guided and advanced from level to level. The principle is to use blocks containing different actions such as moving forward, backward, rotating or others, to position them in front of the screen and launch the sequence to see if our hero is correctly guided and meets his objectives.
PRODUCT SHEET OSMO CODING AWBIE
Une aventure mi réelle, mi virtuelle qui fera forcément un carton sous le sapin de votre Noël 2017 !
Beebot, educational robot for children
Don't forget them, the little ones will also get their Christmas gifts this year. I add to the selection a small bee robot that has proven itself in many schools but also in many homes.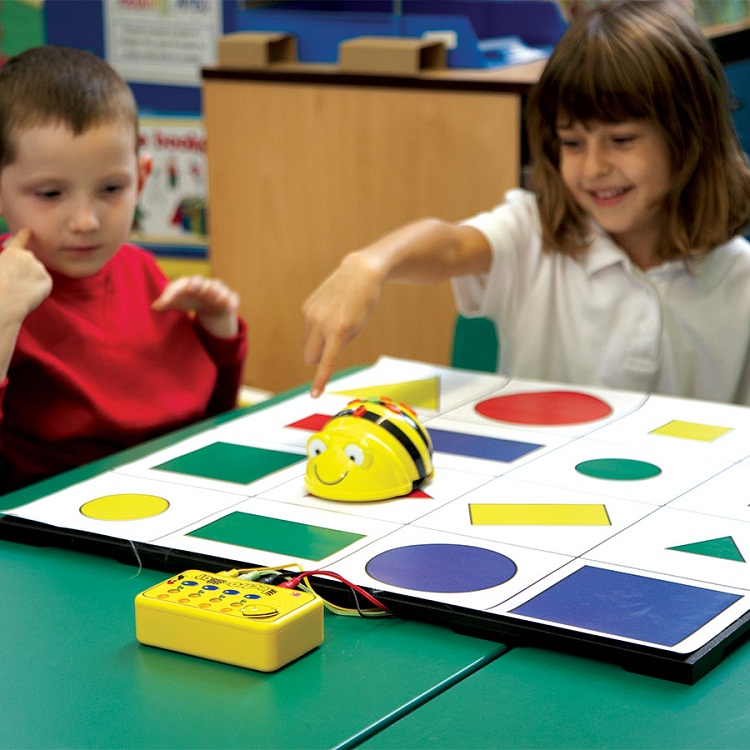 Its operation is simple: it has many small buttons on its back, on which to press to record a route. He can then reproduce it by himself for:
Follow a path that you have created from scratch
Follow a course on one of the Bee Bot mats that allow you to work: the alphabet, shapes, colours, numbers...
This educational robot is not usable for the child alone, so it will need your help but let's not lie, gifts for children are sometimes also a little for us!
Makey Makey, the creative kit
Makey Makey, it is not an educational robot but a kit that allows you to learn how to use your imagination. It works very well with younger children and you will understand why.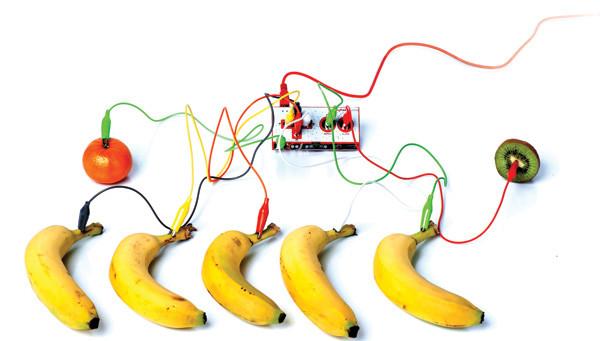 The objective of this kit is to connect everyday objects to a PC to make them live and have fun with them... This introductory sentence may seem a little strange but it is nevertheless what you will be able to do with Makey Makey. The kit contains a USB cable that you can connect to a computer and everyday objects to play with: the possibilities are INFINITE!
Do you often hear it and remain sceptical? I let you watch these videos for Makey Makey and Makey Makey Go: demonstrations that are full of imagination.
Basic circuit Scribe kit
Another product that allows you to learn while having fun and we will play with the conductivity of electricity here. The magic of Circuit Scribe and Electroninks is to have invented a conductive ink pen that allows you to draw circuits on a simple sheet of paper.

The advantage? To be able to let your imagination express itself through the drawing but also by arranging different electrical parts of the kit to create a real electrical ecosystem: LEDs, switches, transistors, batteries and many others.
Without forgetting that for the most talented, Circuit Scribe is compatible with Arduino, which considerably increases the possibilities and the work of development and programming skills.
An original gift that will not be boring: the kit comes with a notebook to keep your circuits and allow children to share their creations.
WowWee MIP Coder
WowWee's MIP coder is both a toy robot and an educational robot. It is indeed fun to use but has a tablet application, thanks to which it is possible to code (thanks to a simplistic and easy to use interface) and to program your robot in a fun way.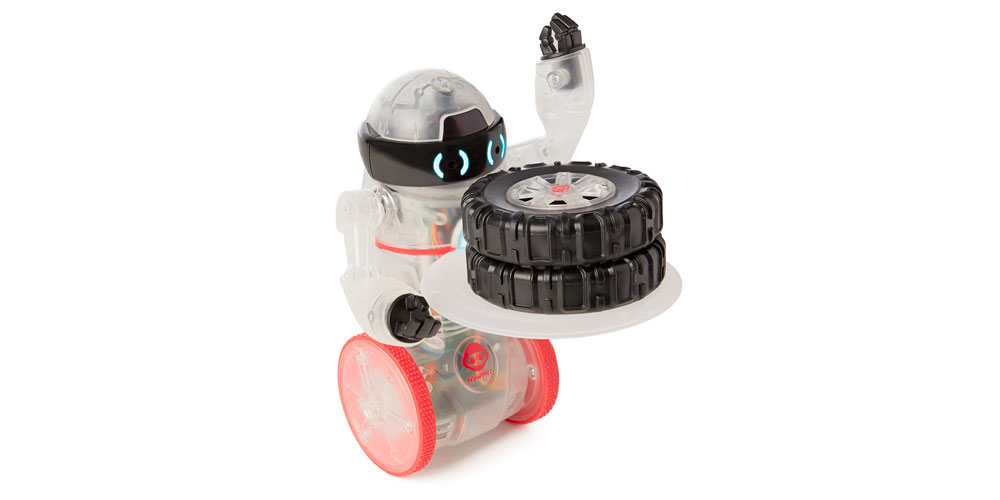 An endearing and friendly robot that reacts of course to what's going on around him:
He responds to applause and touch
He can dance and carry things on his tray
He communicates with different gestures, sounds or lights depending on his mood
Thymio II
Thymio II is an educational robot mainly used in schools and has made its mark in the hearts of the public. At home too, we have the right to enjoy learning programming and wanting a little educational robot under our Christmas tree this year!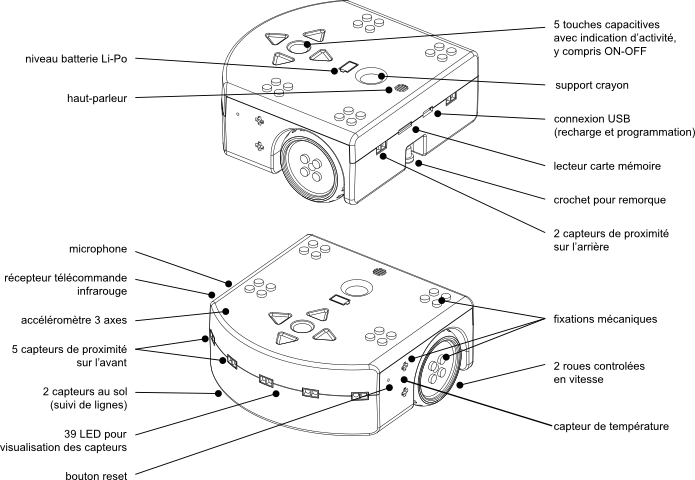 Just like Lego Education Wedo 2.0, it is not a gift that your child will be able to use on his own. He will need help in his understanding and programming work but no problem: the Thymio robot is in Open Source, which means that the community is very important and that videos, forums, articles and other types of media are not lacking.
It is a robot with a large number of electronic components, a very simple, intuitive programming software and compatible with Lego or Lego Education. Its purpose? Teach you how to code, program and live it through 6 pre-programmed behaviors:
friendly (green) - tracking objects in front of him
explorer (yellow) - obstacle avoidance
shy (red) - detection of shocks, vacuum and indication of the direction of gravity.
investigator (turquoise) - line tracking
obedient (purple) - Remote control via remote control or from the interface buttons of the Thymio II robot.
attentive (blue) - Sound detection and control by clapping your hands.
A gift that is out of the ordinary but will keep your child busy, I assure you, for several years!
Lego Education Wedo 2.0 Basic Kit
A must for educational purposes since Lego robots were the first to teach you while having fun. This choice must be made if you wish to support your child in his or her learning. All alone he will have very little chance of succeeding.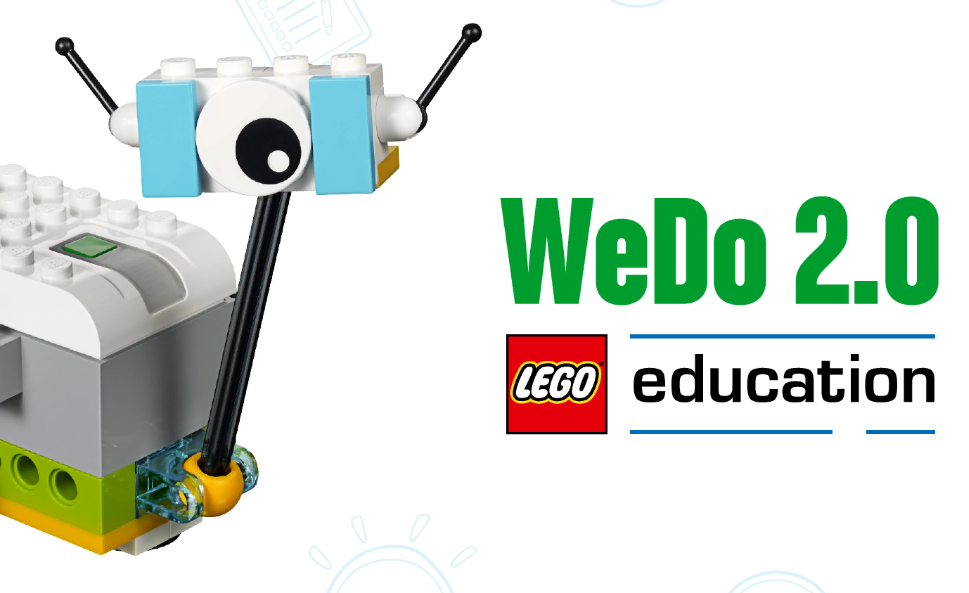 L'objectif de l'ensemble Lego Wedo 2.0 est de vous confronter à des problème et de les résoudre ou de les illustrer à travers les constructions de briques Lego motorisées. Ces constructions sont ensuite programmables et pilotables via un logiciel de programmation simple et intuitif sur tablette et depuis peu ordinateur avec Windows 10 et autres systèmes d'exploitation (Consultez les compatibilité ici).
The objective of the Lego Wedo 2.0 set is to confront you with problems and to solve or illustrate them through the construction of Lego motorized bricks. These constructions are then programmable and controllable via a simple and intuitive programming software on a tablet and recently a computer with Windows 10 and other operating systems (See compatibility here).
LEGO EDUCATION WEDO 2.0 PRODUCT SHEET
The gift of an adventure in which the child will work on the skills of science, technology, engineering and programming.