Makeblock new products
The Makeblock educational robot brand was initially very well known for its mBot robots but is making great strides and offers more and more new products. To help you discover them, you will find below the new products that are either already available or pre-ordered on our website in the dedicated section. New robot models to be built, modular drones to be programmed or additional components for existing robots, here is an overview of what Makeblock and Robot Advance are offering you!
Ultimate robot Kit V2
This is a new trend proposed by Makeblock and already implemented by other educational robot brands such as Lego Boost or Lego Mindstorms EV3: the X in one. And that's a very good thing since it allows you to have a set of basic parts for your robot to build and to assign it very many shapes during its first, second or third reconstruction.
The Ultimate robot kit V2 from Makeblocks is 10 in 1! 10 different assembly possibilities thanks to a set of 458 pieces to have more fun and go a little further each time with the STEM (Science, Technology, Engineering and Mathematics). Buildings that will therefore be intelligent and programmable on the brand's platforms but also via Arduino or Raspberry Pi.
Among these constructions, the balance robot, bartender, photographer, combat robot and others that I invite you to discover by consulting in the Robot Advance shop the Ultimate V2 robot kit sheet.

Starter robot kit blue (IR Version)
A robot more powerful than the mBot and which also allows you to learn STEM in a fun and entertaining way. A good way to make a first step and to be accompanied in its discovery.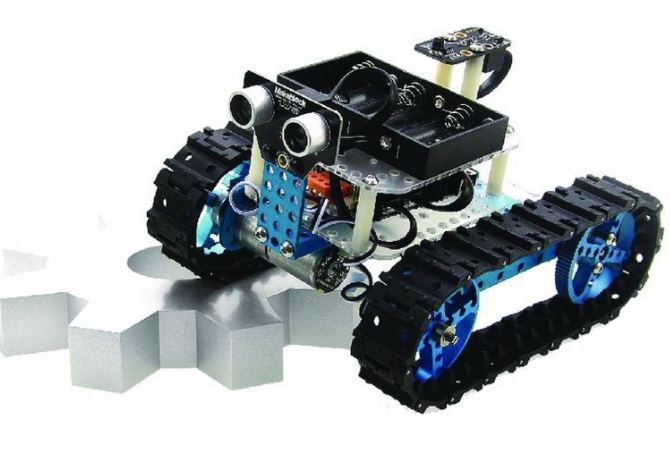 The starter kit is a starter kit that contains several aluminium mechanical structures as well as wheels, sensors, two motors, a receiver and of course an Arduino compatible programmable card to make it do what you want.
You will have the possibility to build two different robot models: the tank or the three-wheeled car. To learn more about this Makeblock robot, I invite you to discover the card of the Kit robot starter blue, IR version.
Robot mBot ranger bluetooth version
A new fun, educational and programmable 3 in 1 robot, you can give it 3 different shapes according to your desires: the tank robot, the pendulum robot and the 3-wheel car robot. As for the other robots to be built by the brand, the kit is composed of mechanical parts in aluminium and many other parts such as 7 sensors, a loudspeaker, an encoder motor but also the iPad / Tablet programming software and a powerful Arduino controller board for programming.
A very simple programming that can be done thanks to a drag-and-drop system of icons that correspond to actions. The robot ranger is fully compatible with the Mblock programming software based on the open source code Scratch 2.0. You will also be accompanied by 16 free chapters on graphic programming from ranger (HD Makeblock Application) which will help children enjoy the world of programming.
To find out more, go to our mBot ranger Bluetooth version robot sheet.
Mbot Light and Sound Extension Pack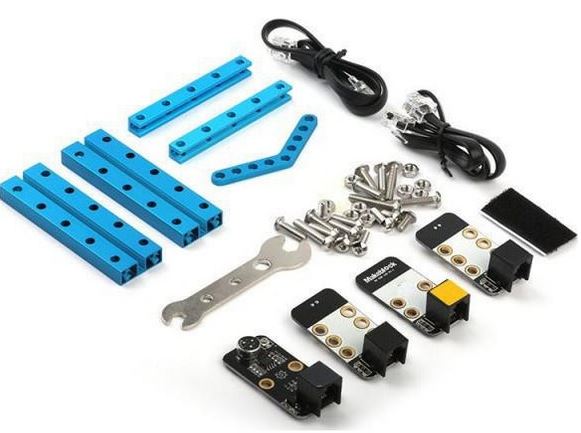 If you are interested in building and programming Makeblock robots, you probably know the mBot robot. The brand proposes to go further with this educational robot thanks to a sound and light kit. It contains 2 lights, 1 RGB LED, 1 sound sensor and additional mechanical parts. A very simple device to install since you will only have to fix the different elements on the mBot according to what you want to do with them and it is up to you.
This pack is also compatible with the mBlock software on which you can work to go further.
If you would like to know more, we invite you to visit the mBot Light and Sound extension pack sheet.
Airblock, modular drone
This is probably the brand's greatest innovation, its programmable, modular Airblock UAV made up of magnetic blocks. Many possibilities and advantages that I will not detail here since we have in our news section an article on the airblock drone.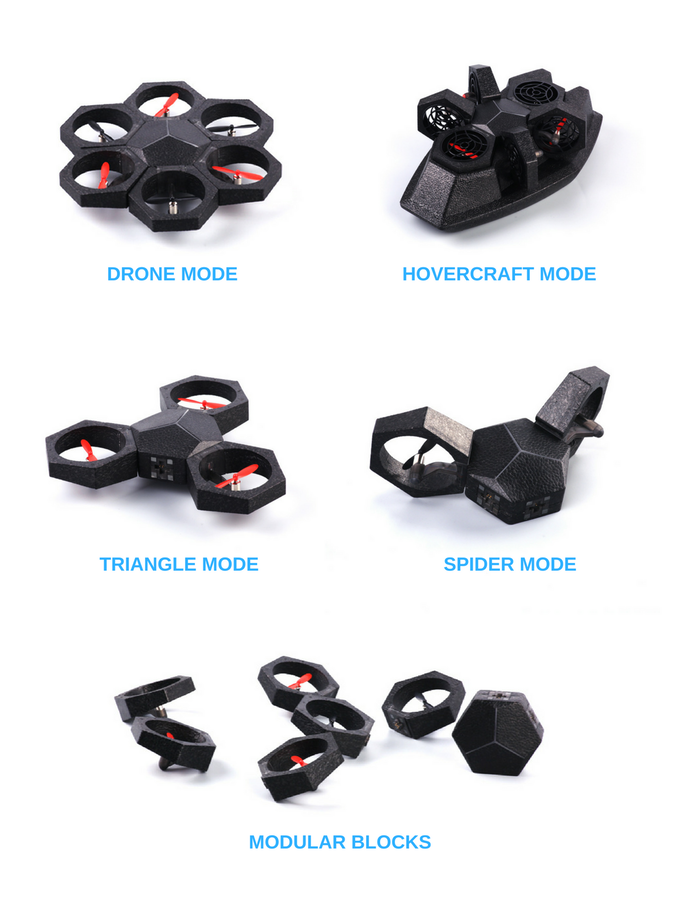 You will also find more information on the product sheet of the Airblock drone in pre-order and scheduled for July 2017!
Makeblock Wifi module​
There is a lot of talk about Makeblock robots connected by Bluetooth but wifi has other advantages and you don't want to miss it. That's why the brand has released a wifi module designed especially for the Makeblock and Arduino programming platforms. Its RJ25 connector allows the module to be connected to the solderless development board, a small revolution.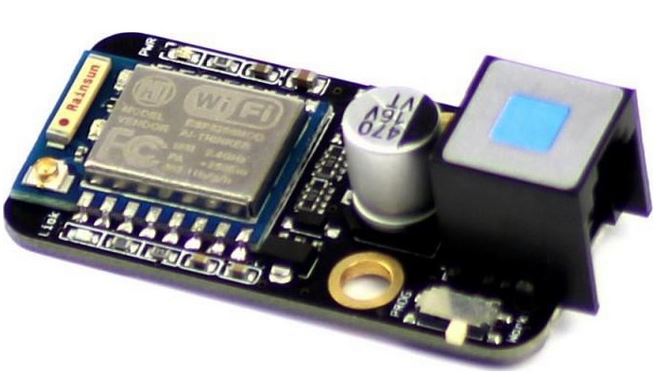 No need to define the role of this module which will allow a longer communication distance from your robot with a tablet, a smartphone but also a PC. All information on the wifi module here.
Bluetooth Modules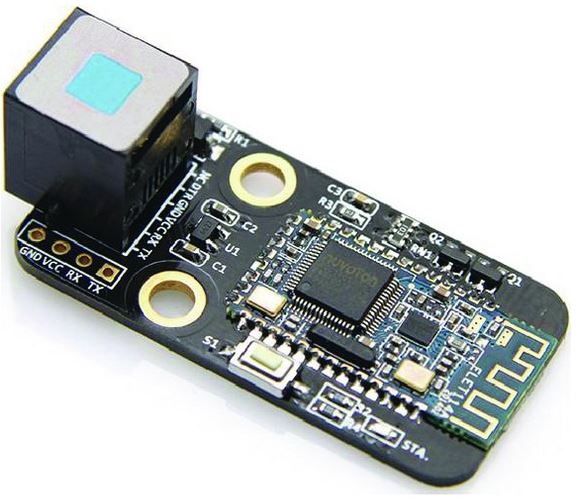 Bluetooth module for mBot
This new Bluetooth module now allows you to control your mBot remotely with a tablet, smartphone or PC. All you have to do is download the iOS or Android application and drive. Insert the part into your mBot robot and the connection will be very simple. The power supply is 5V.
All the information about the Bluetooth mBot module here.
Bluetooth module V2 and V4 Makeblock
It also allows the brand's robots to communicate with various Bluetooth devices and to operate them differently thanks to interesting applications. This means more experience and the use of your smartphones / tablets as remote controls. The power supply is 5Vdc.
All the information about the Bluetooth module V2 and V4 Makeblock here.
Extension kit inventor electronic
​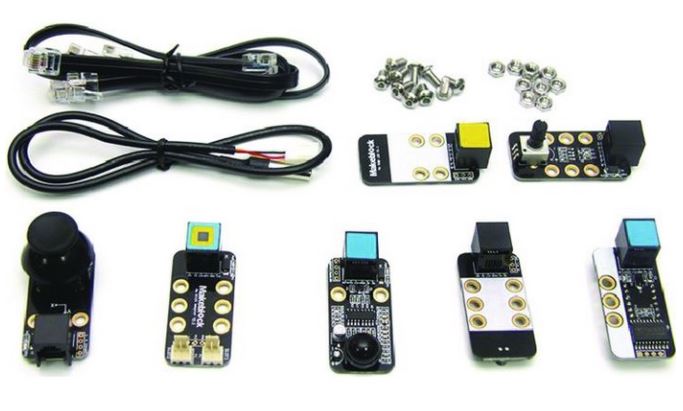 New modules specially designed to give more electronic power to your Makeblock robots. Ideal once you have one foot in learning the basics of programming. Perfect complement to the basic sets of Makeblock robots, the inventor Electronic kit contains:
A PIR sensor
A temperature sensor
One RGB LED
A 7-segment display
A potentiometer
An RJ45
Cables and accessories
To learn more about the product, I invite you to browse the product sheet of the Inventor Electronic Extension Kit.