The Edison robot is an innovation of Microbric, a company that provides educational robots to schools around the world. The project was launched in 2004 and was an immediate success with its audience, raising $100,000 in 30 days. For nearly 15 years, the company has continued to develop and offer additional educational projects such as its EdCreate Kit.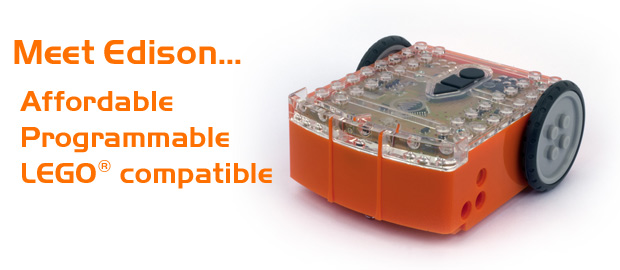 The Edison educational robot is the result of a true passion for innovation and new technologies, which today allows students around the world to learn the basics of programming. The robot's sensors can make it react to sound or light, but Edison can also be programmed to perform many actions that you have defined. This educational robot has many advantages for individuals and schools alike:
Programmable robot: Make robot programming fun, easy to learn and powerful with multiple programming languages. From block-based coding in the form of drag and drop or text-based coding with Python, Edison can be programmed using one of Edison's own educational robot programming languages.

Easy to use: By using the six pre-programmed robot activities defined by bar codes, children as young as four years old are able to learn the basics of computer thinking and programming. With guides and start-up resources for all levels, anyone can become a programmer with Edison!

Affordable: at less than 50€ each (-10% on Robot Advance for a batch of 10 Edison educational robots) and with more integrated sensors than any other robot in its class, Edison robots are the ideal complement to any classroom. Let each student familiarize themselves with their own robot without sacrificing your budget.

LEGO-compatible: Spark your students' imagination! Edison robots are modular and easily expandable using LEGO bricks or the EdCreate designer kit. Enrich your STEM students' experience and encourage creative problem solving through interactive engineering and programming projects.

Educational: Edison is easy to integrate into your classroom with the help of free educational resources designed to help teachers use robotics and coding. All Edison resources, including lesson plans, teacher guides and student worksheets, can be downloaded free of charge under a Creative Commons license.

Timeless: Ready to use, the Edison robot is a powerful and attractive tool to teach students computer thinking and computer programming in a practical way. Edison robots are designed to withstand the classroom environment, making them the ideal tool for all your STEAM projects.