Remote-controlled toys
An essential in the section of toy-robots (lien rubrique)! Remote-controlled toys to pilot night and day in the airs, on water or on the road. Numerous models are exist for all kind of budgets and are pilotable with a remote-control, a tablet or a smartphone. .
Flying remote-controlled robots

Avitron and Bionic Bird
They are models of flying robots Avitron for children at €34,90 and more sophisticated models like connected Bionic Bird,for children aged of 14 and above at €119.
Seel all of our remote-controlled flying birds
Parrot Drones
The remote-controlled drones Parrot are equipped with high-performing components for photo amateurs. The Bebop drone, available in four colors at €499 is a jewel of technology: 14 mega pixels photo camera, full HD video, vision control on smartphone/tablet, included GPS, Dual-Core processor with Quadcore GPU…
Allof our remote-controlled Bebop drones
The mini Airbone drone is also remote-controlled by smartphone or tablet and it will allow you having fun with 90° turns and night piloting experiences.
All of our remote-controlled Airbone drones
​
Remote-controlled racing robot

Parrot Mini drones
The mini remote-controlled drones Parrot are available from €99 to €199. Some of them fly, roll and are equipped with sensors, camera to film piloting sessions, can reach 18k/h and are connected to your smartphone through application.
The Jumping and Jumping Sumo robots offer different modes of driving according the wheels' position. Really performing racers with included wide-angle camera to take pictures, video and make circuits or races. The remote-controlled robot Rolling has removable wheels if you want to roll of fly!
All of our drones Jumping sumo
All of our drones Jumping
All of our drones Rolling
​
Remote-controlled boats Parrot
​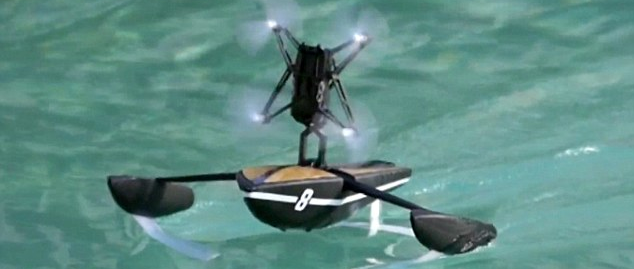 The remote-controlled boats Parrot are equipped with a hull to navigate on freshwaters and a removable drone to fly in the airs.
Hydrofoil available in black or white has a mini integrated camera, sensors and a removable structure to be transformed into a flying remote-controlled robot: front and back looping, lateral looping in a single click at a 18k/h speed.
Remote-controlled Boat Hydrofoil by Parrot
Remote-controlled humanoid robots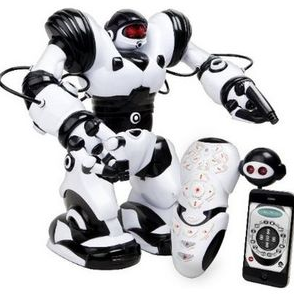 Robot-Advance offers various types of remote-controlled robots amongst them humanoids. There are robots for young robotics amateurs with Lego but also robots for competitors who will need the most developed technology of the market to compete.
LEGO® MINDSTORMS® EV3 permits building a programmable robot (thanks to the intelligent EV3 brick) pilotable on smartphone or tablet (compatible iOS and Android). They are perfect to use your imagination and having fun while learning robotics.
LEGO® MINDSTORMS® Education EV3
Robotis offers the highest performances of the market for remote-controlled robots programmable at a very advanced level. Bioloid GP and Bioloid Premium Kit are recommended for advertised people in robotics: the programming software in C, micro controller CM-530, robotic servomotors, infrared sensors and much more.