Lego Mindstorms EV3 Education : kit Space Challenge
It contains three learning mats, a Conquest mat, a dual lock adhesive, and many of the elements used in the Conquest models.
This set will show your students how robotics can be used in a variety of real-life applications, and have them work together to solve realistic problems described in the
learning missions of the activity pack 2005574 Conquest of space.
Your students use their skills in scientific and technical subjects to build, test and discover how effective their models are.
These can also be found in Activity Pack 2005574 Conquest of Space.
The Conquest of Space set requires sets 45544, 2005574 and 2000046.
Learn how to use robots to solve real-life problems!
Use the Conquest of Space set to teach your students scientific and technical subjects in a fun and structured way using the Lego mindstorms EV3 robot.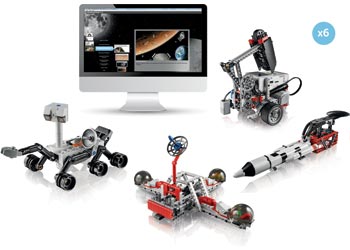 Space Challenge LEGO Mindstorms EV3 Education: educational values
An easy start with robotics
Application of Robotics to Real Life Situations
Involvement in problem solving
Teamwork skills
Practical approach to scientific and technical subjects
Development of solutions
Build, test and evaluate
Experience in programming, sensors, motors and intelligent units